Ever since mid-March (!?!), 2021 has been a nightmarish year for me storm chasing. I did not properly chase one storm in all of April. Which isn't to say that the atmosphere wasn't cooperating – on April 23, a cyclic supercell put down tornado after tornado near Vernon, TX. I was at Scipio's vet appointment. On April 25, there was a wedge tornado near Electra, TX followed by an incredible mothership. I was attending class. May wasn't much better – the storms generally migrated out of here, Oklahoma remained quiet as a field mouse, and I patiently waited at home for something that would never happen. I chanced a trip to southern Oklahoma on May 3rd for an outflow-dominant supercell near Ardmore that quickly transitioned to slop. On May 8 I tried a trip to central Kansas for storms that remained capped until right at sunset, when I had played myself out of position. And then, the week after OU's graduation, I had Alex here all week in case there were local storms. The nearest supercell of any value was literally in Lubbock. My Pathways internship started May 24, ending what could only be described as a dookie spring chase season.
Or so I thought.
A pretty typical late May evolution occurred this year – storms most days in the central Plains with decent southwest flow aloft. I watched most of it from home as I began my time at NWS Blacksburg, but on May 26 it rapidly became clear that the environment was primed for something special. Upper-60s dewpoints filtered all the way into west central Kansas, with a trough approaching aloft and a warm front lifting through the state. I was feeling major FOMO, especially when the SPC issued a moderate risk for much of Kansas.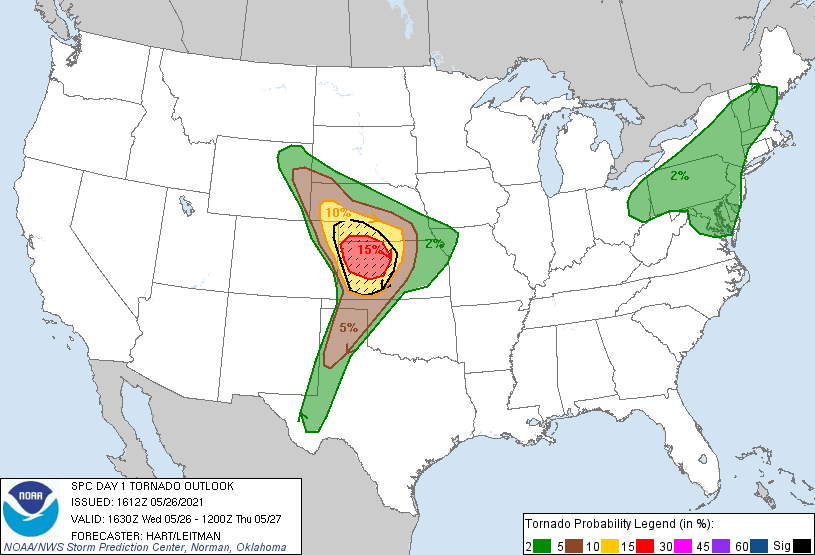 I started idly doing the math. My shift at NWS Blacksburg was 7:00 – 3:00, and most CAMs were slowly drifting south with the main dryline supercell threat. So if a storm were to initiate near Liberal, and track just south of Dodge City, and we left at 3:00, we could be there right at 7:15…
Finally, I nerved myself to ask Elizabeth if she wanted to give it a shot. Elizabeth was a bit skeptical about getting to the target so late. Hell, so was I. But the way the low-level jet was supposed to crank along the Oklahoma/Kansas border, I legitimately thought there could be violent tornadoes toward sunset. A lot of concerns can be written off by the distinct plausibility of seeing violent tornadoes. We agreed that it was worth a shot for hodographs like this:
I put together Scipio's carseat bucket, quietly collected Kansas and Oklahoma atlases, and tried to get through my work day with some semblance of productivity. Meanwhile, Elizabeth gassed up the Subaru to prepare us. At 3:00, I clocked out. At 3:03, we pulled out of the Links, and I was tearing for the Northwest Passage.
We stopped in Watonga so Scipio and I could use the bathroom, and so Elizabeth could start driving. It was about this time that a PDS tornado watch was issued for western Kansas. A little blip on radar had showed up near Scott City, along the dryline, with chaser dots flocking to it like ants. Meanwhile, another storm had formed in the warm sector and was intermittently tornadic east of Hays. Yet another storm was about to latch onto the warm front near McCook and go ballistic. It was about 4:30, and I told Elizabeth it was time to blast.
We continued up the Northwest Passage. Something funny was happening in Kansas. The little updraft kept drifting due north and not managing to split or grow. Little blips on radar showed up in southwest Kansas, but remained little blips. Meanwhile, a supercell initiated in the northern Texas panhandle, while another one tried to develop right over Amarillo. I monitored the small supercell near Spearman. It drifted northeast, and I was slightly worried it wouldn't have the same magnitude of mid-level shear as western Kansas. The storm started to collapse, along with my hopes briefly. But then, shortly after shedding a left split, a new updraft pulsed up to 55,000 feet, and the hail core expanded in size. I was now pretty sure this storm was going to have staying power. And it pretty much instantly had a meso on both Dodge City and Amarillo radars.
We continued northwestward – at one point, I considered cutting due west before Woodward to cut off the supercell near Perryton, but decided to hedge the blips near Liberal and chart a course to Elmwood, Oklahoma. Once we'd cleared the Woodward and Fort Supply areas, the anvil of a mean Plains supercell darkened the sky to our west. Elizabeth stepped on the accelerator, while Scipio sat next to me in the backseat like a champ. Our visual of the updraft near Liberal confirmed all I needed to know – we were going to dive south from Elmwood toward Booker, and then play the panhandle supercell. By now, I was seeing intermittent reports of tornadoes from the five storm chasers on the storm (the other 500 were in Kansas, still trying to get a storm to root).
This was where the timing had to be really good – the supercell itself had a lot of crud to its north in the Oklahoma panhandle, basically extending all the way to near Elmwood itself. Meanwhile, two LP supercells had initiated in its inflow region – a left and right split. We had to carefully navigate our way past the left split, which went screaming past Booker just as we got into town, then cut into Perryton before the right split or the supercell itself engulfed the highway.
I knew the main tornado warned supercell was clearing out its inflow region just in time for the low-level jet, so there wasn't time to dick around near its forward flank. But holy cow, the scene was beautiful. I've always wanted to see a storm in that part of the country. Just on top of the Caprock, it qualifies as the High Plains, with all of the requisite open expanses. There are gently rolling hills and views that range dozens of miles – literally, the kind of place where you go "wouldn't you just love to see a storm from here?" And laid out from right to left was core after core of beautiful, high-based storms, all leading into a monstrous hail core still to our west. The only pictures I have come from my phone (I left the SD card out of the camera before we left – oops), and they came from the closed window of a moving vehicle. But still, what a view, so many shades of blue were in the sky.
We got into Booker safely, and then got onto State Highway 15 toward Perryton. By now, the supercell was either stationary or deviating to the south of east. Without great radar coverage, I was mostly navigating by sight at this point, and I knew it would be close, but we pulled into and through Perryton just ahead of the core a little after 7:00 pm. Finally, the storm's updraft revealed itself. I directed Elizabeth to pull off on County Road K a few miles southwest of downtown Perryton. We pulled off behind a volunteer police officer and had an amazing leading line straight down the road to the storm.
Scipio tumbled out of the car with me and took a long, long leak, then proceeded to lunge at every vehicle that traveled by down the highway. In the long intervals in between, he happily munched on whatever grass was available. Meanwhile, the storm churned over the open Panhandle fields nearby us. We were a bit confused by the storm structure – there was a big, blocky lowering on the backside of the storm to the west of us, but also persistent rotation at the far end of the big inflow band in the foreground. My guess was that the storm was slowly cyclic and transitioning between mesocyclones, but both areas persisted for minutes on end.
The supercell drifted slowly closer to us – close enough that forward flank lightning started hitting pretty close around us. That, combined with the fact that Scipio pooped in the middle of the dirt road, made up my mind that we should drift ever so slightly closer. This time, we pulled off on a dirt road a little further from the main highway, and sat in the car, looking west. As I said, "I'll risk it for a tornado, but not without one." As I was in the middle of petting Scipio and commenting on that, Elizabeth gasped.
"Nolan… Tornado!"
For a moment, I wildly looked around under the mesocyclone. Sure enough, a small rope was reaching out from the backside of our storm toward the surface. As I watched, it briefly made contact with the ground. As smoothly as I could with Scipio's leash, I hopped out to get the quickest shot on it I could, cursing myself for not having the camera's SD card. A zoom lens is exactly what I needed, but an iPhone would have to suffice.
Elizabeth was marginally faster than me and actually managed to catch the funnel as it extended to the ground:
Almost as soon as the tornado appeared, it began to wither. We had just enough time for Elizabeth to scoop Scipio up and pose in front of the funnel before it was fading away:
And then it was gone. My desperate gamble had paid off with a beautiful supercell, and now this. My attention once more shifted to the sculpted nature of the low-level mesocyclone, churning above us relentlessly as the low-level jet picked up. Elizabeth has a great timelapse, but videos never seem to embed well on WordPress, so if you see this Elizabeth, you should tweet your timelapse so I can embed it.
After being five or so miles from the last tornado, and with the sun setting, I was in no rush to move. The storm structure was still top-tier, but I wanted to get behind the wall cloud for the next one so that it was backlit. As it happened, though, the next few minutes were characterized by rather storm north-to-south motion under the low-level mesocyclone, suggesting our supercell was going outflow-dominant as it approached Perryton.
Note the dust cloud on the far southern end of the base, which was persistent at the leading edge of the RFD gust front. I also didn't really feel like we needed to get blasted by RFD hail. This left us in a slightly precarious situation – without great radar coverage, I was mostly guessing where the storm was traveling. And yet, the LP storm from earlier had left a big swath of wet dirt roads south of Perryton. Highway 15 would become buried in hail at some point to our northwest very soon, so I cautiously navigated Elizabeth back to the southwest side of Perryton on 15. There was a farm-to-market road (192) that wrapped around the southern edge of town, and I had Elizabeth turn on that to gain distance from the forward flank. We then turned south on US-83, just before the small golf course in town, and headed south to County Road L, 2 miles away.
Now we were finally achieving that backlighting I had hoped for. At the tail end of the RFD, it was just wet enough to annoy Scipio, but not too bad to where I wasn't willing to get out of the car. We had been at our pull-off for no more than a few minutes until Val Castor's giant truck arrived at the same intersection. Another volunteer officer pulled off near us, as well. Otherwise, just a couple of miles from the meso, the road was empty, a surreal feeling in the panhandle in late May.
The storm itself was still outflow-ish, but a focused area of rotation began to sharpen immediately to our north.
After a few minutes, the RFD gust front had carved out a small shelf-like feature on the south side of the storm, with a cute little occlusion point and a tiny clear slot even developing.
The hook was now swinging around to occlude the circulation in rain, and we were losing the backlighting I'd wanted. We moved a mile east back toward US 83 and then pulled off at the next eastward-facing road as the circulation passed directly over the southern end of Perryton. Scipio was once again a good sport about getting out of the car despite the wet ground, even after a quick downpour forced us back in the car for 30 seconds. The storm's wall cloud slowly began to disappear.
Just as I was about to write the day off, a quick burst of motion near the ground caught my eye. I ran forward to get a shot of it just as the rain curtains wrapped all the way around.
Tornado? I wasn't sure, especially as our vantage point was cut off pretty rapidly. I opted to go with the "vague" wording when reporting to the NWS.
I would later find out that an EF-0 tornado was confirmed in Perryton, essentially right over the local golf course, around two miles to our north-northeast. The time of the tornado track is 5 minutes earlier than this picture. Given that I didn't see anything tornadic five minutes before, I'm reasonably sure we happened to catch it right there.
Without any reliable roads east and with the storm's circulation now embedded in rain, with sunset fast approaching and a four-hour drive home, I was ready to call it a day. Elizabeth turned the car around and we headed south on 83, to switch drivers and let the dog out near Canadian. We made two more stops – to get dinner and prevent a Hangry Elizabeth episode at Subway in Elk City, and a gas stop just outside of Weatherford. Scipio had been a real trooper all day, but his car anxiety prevented him from settling down all the way back. It was with pride but exhaustion that we made it home at 1:00 a.m. I had to work at NWS Blacksburg remotely in 6 hours. Before I fell asleep, I turned to Elizabeth.
"I don't regret a thing."
(Note: the next day turned out to be a severe event in central Oklahoma, with a shelf cloud sinking southward onto campus in the evening. Elizabeth and I got a cool view of the shelf from the parking garage with James and McKinsey in the evening:
This was of course followed by a giant Norman flood:
And then, right at sunset, a beautiful yellow sky, rainbow, and anvil crawlers all in one:
May: sometimes, it all works out.)