It was time to put in work. In Yellowstone, freed somewhat from the binds of family slowing her down, Elizabeth was ready to embark on an ambitious agenda of sightseeing and activity-doing. To be able to see a reasonable chunk of a national park the size of Rhode Island in about 96 hours, you have to be willing to burn it at both ends. Never was this more true than on August 17. Of all the exhausting days we'd have and the several exhausting days still to come, this one took the cake in terms of sheer "wow" factor. Somehow, despite this being our 4th morning in a national park, we were still up and at em within a reasonable facsimile of sunrise. Believe me when I say that if you didn't believe in miracles, you should now.
Unfortunate circumstances had closed the road leading north out of the Canyon Village, necessitating a roundabout approach to everything we wanted to do in the northern and northeastern part of the park. This would be a bigger problem later in the day, as it really wasn't much slower to drive to Mammoth from Canyon via Norris than the other route, but when we went to Lamar Valley for sunset that could be annoying. I volunteered to get behind the wheel for the morning jaunt to Mammoth Hot Springs so that Elizabeth could get her fix of all of Yellowstone's splendor.
The drive from Canyon to Norris, which we would repeat enough times to become familiar, isn't anything insanely crazy. There are some meadows, but mostly it's an uphill climb across the rim of the caldera through lodgepole forest. At the Norris Junction, we took a right to officially begin our only day in the northern loop of Yellowstone. The way was still forested, but this time clearings allowed us to see the creek valley we were following along, as well as the occasional steam plume giving us a hint that a minor thermal feature was visible. This is where I'll admit that I should have done what my parents suggested and downloaded the offline park driving guide, which lets you know everything about the features you're passing. With that, I would have known some of the minor features we could have briefly stopped and seen like the Roaring Mountain or several waterfalls they saw. Instead, given the early time of day and our determination to get to Mammoth before parking filled up, we pressed onward.
The terrain started to get rockier the further north I drove. This was probably a consequence of us moving away from the rolling caldera and into the southern reaches of the Gallatin Range, which dominates northwestern Yellowstone. While not as grand as the Tetons due south of them (pun intended), the Gallatins are exactly what you'd think Montana and Wyoming look like – big, rugged peaks and long ridges with deep gorges in between. I had to be a very attentive driver all the way into the mini-switchbacks that define the descent from the high outcroppings the loop road is built on down to the Mammoth Hot Springs area and the village below. Lo and behold, there was still parking available at the lower terrace area. Even wilder, Terri and Garrett were keeping pace with us. Miracles really do happen!
This is a good place to drop maps of the Mammoth Hot Springs area and as well as the Hot Springs themselves.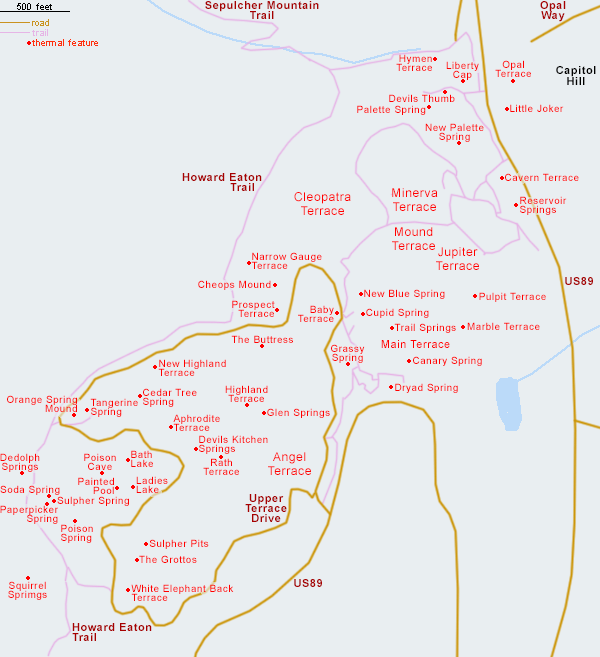 The gist of it is that we'd need to walk around to see the lower terraces, while the upper terrace was accessible via a one-way road. The features at Mammoth Hot Springs are noteworthy not so much for their geyser qualities, but more (as the name implies) for the beautiful terraces and features the hot springs carve out into this stretch of hillside. I recently heard the area described as an inside-out cave, and there's a lot of truth to that statement. I think the most famous and instantly recognizable feature at Mammoth is the Palette Spring, although I've seen pictures of the Mound Terrace area before. I would spend most of my time at the area looking for the Palette Spring. Honestly, I wasn't sure whether I should expect something truly incredible or not. Most things I'd read put this region somewhere below the Canyon and Grand Prismatic in that B tier of Yellowstone sights to see.
After a quick stop at one of the cleanest unmanned restrooms I've ever seen in a park, national or otherwise, we began our walk up the boardwalks that are carefully placed into the hillside alongside the terraces. I'm going to start sharing pictures now, but I have to be honest: I have so many that when I was going through them, I wanted to edit them all. The reasons are twofold: they were quite pretty, and the wildfire smoke had somehow reached a new level this morning. You'll see. Alright, I've delayed the moment of editing and uploading 25 pictures long enough, here we go:
The first few views, as shown above, were kind of underwhelming in person. First of all, the view across the canyon carved by the Gardiner River is probably normally insanely pretty, but when you can include the sun in your selfie at 10:00 a.m. because of smoke there are deeper issues going on. Also, the terraces we were seeing appeared to be inactive and kind of crumbly – not quite the insane, colorful whale's mouth I was expecting to see. The good news for me? After doing a loop around the Minerva and Jupiter terraces, we headed up a rickety boardwalk above Mound Terrace, which for my money is one of Yellowstone's 15 or so most spectacular sights. The terrace is fed by an active spring from the hillside, and water pours down the hill over these smooth cascades that get smaller and smaller until it reaches a relatively flat pool separated by tiny little ridges of travertine. The whole thing transitions smoothly from white-brown to orange to yellow as the water temperature cools and allows different microorganisms to thrive within. The spring water flows beneath the boardwalk in a trickle heading toward the bottom of the hill. It's sublime.
*This* was what I was looking for from my Yellowstone experience.
Comparatively, the rest of the lower terrace region was a bit of a disappointment. There were some bright spots, some colorful hot springs and some gleaming white terraces, but nothing that compared to this.
At the top of the lower terrace area, we came across Terri and Garrett, who were in the area doing their own sightseeing. Terri was in heaven. Yellowstone has been her dream to visit forever, and this was her chance to live that dream out. To me, it was something of a fulfillment of months of waiting. This, in all of its hazy glory, was Yellowstone National Park.
The Upper Terrace is unique from its lower brethren in that you are not required to climb steep, sun-bleached boardwalks that have probably been there since the 1950s. Instead, the Upper Terraces are accessible by a one-way road a single switchback above where we were parked for the lower region. It took us a little while to get to the beginning of the Upper Terrace Drive, because we accidentally drove past it the first time. It's not very noticeable. No big deal, we could just swing it around.
The Upper Terrace was full of gurgling hot springs, gleaming white terraces, and the same orange-yellow-brown travertine that made up Mound Spring. In fact, it kind of blended well with the sky. Here's the view from the first overlook:
But only if you're a bit of a Lightroom pro like myself. Here's what it actually looked like from up there:
It was basically the apocalypse in northwest Wyoming. Compare that to what other people have seen when they visit Yellowstone over the years:
It hardly seems fair in a way, doesn't it? I don't know if humans will get the drought or wildfire problems under control in my lifetime, but our current pattern is unsustainable.
Depressing skies notwithstanding, this terrace drive offered numerous opportunities to pull off and take pictures of calcified trees, the crackly rock that accompanies a thermal feature, and little mounds of travertine.
This is what sets Yellowstone apart. I've been to Hot Springs National Park and seen the hot springs there. I'm no stranger to various springs and travertine features in the Ouachitas and Ozarks region. Not everything I saw in Yellowstone was new. But there was just so damn much of it, and everything was so damn wild. Around every corner on this road was something new. Any one thing at Mammoth (or, for that matter, any one region at Yellowstone) might be matched by something elsewhere in the United States. Collectively? No chance.
One thing I hadn't seen: the classic colorful terraced view that everyone associates with Mammoth Hot Springs. Where was it? Mound Spring was close, but it didn't have the sheer stair-like look that I'd seen. But we were running out of time and features on the Upper Loop, especially when we decided to pass on the little trail that would have led to several more. Elizabeth and I were cognizant of not running Pam into the ground too much after the scare we received at Delta Lake a few days prior, so we made a lot of those little effort-saving decisions. Instead, we drove around to the last big terrace area in Upper Mammoth Hot Springs:
I hadn't found the shot in the pictures. Maybe this was it? Maybe photographers lie. Maybe I was just dumb. Either way, my Mammoth Canonical Shot did not appear to be happening. Still, it was hard to complain. I was satisfied with the views as we made our winding way back down towards the Mammoth Village.
Except… when we started driving down, I realized something. We had missed an area. It was a deceptive spot, since the area in question was basically at the outskirts of Mammoth Village, and not really in line with the other boardwalks in the lower region. But when I looked over, that was it: Palette Springs! This was the spot I'd seen the pictures from! We walked along the side of the road briefly, past a big thumb-shaped rock feature, and there it was. It was beautiful:
Mission: accomplished. Views? Spectacular.
*Now* I could go to the Mammoth Visitor's Center in peace. The town is the oldest developed part of Yellowstone – it's built around Fort Yellowstone, constructed by the US Army in the 1870s when they took over the role of managing the world's first national park. There's a hotel, and restaurants, and grass that was suspiciously green given the level of drought out there. And – most importantly – there were elk everywhere, just sitting in the lawns. They could not be bothered by the human hustle and bustle around them.
Mammoth Hot Springs has a pretty nice visitor's center. There was a ranger out front administering stamps to every Elizabeth who needed one, and lifelike exhibits showing some of the wildlife in and around the park. Most importantly, it had rangers that could maybe help answer a pressing question I had: where were the wolves? I couldn't find them at Hayden Valley last night – heck, I couldn't even find the wolf people. If anyone had a lead, it would be a ranger.
Well, I should have realized, even if the rangers knew, they would never give away the wolf sighting locations. Then they'd end up with 500 people crowding one spot trying to see them (foreshadow alert!). So the ranger gave me a deadpan look and told me there hadn't been any wolf sightings that they knew of. I walked away dejected.
But. My luck was in, in one of the most bizarre fashions. A young, barefoot Asian dude overheard my query and flagged me down as I started to leave the ranger kiosk. "You want to see the wolves?" he asked. Once I had confirmed that I did, indeed, want to see the wolves, he pulled out his phone and grabbed the Yellowstone park map. While doing so, he explained that a bison carcass had been spotted a couple of days ago in Lamar Valley and that wolves had been found at the carcass each night for the last several evenings. After struggling with the Yellowstone app for a few minutes, he showed me where to go – a few miles down the Slough Campground Road in Lamar Valley. Now I had a target locked in for us tonight.
That important business achieved, it was time to wrap up our morning plans and move on to an action-packed afternoon. We had a very specific time we needed to be to our whitewater rafting outfitter and still needed lunch beforehand. As fun and expectation-exceeding Mammoth had been, it was time to briefly leave Wyoming behind and go to a new state – Gardiner, Montana.