If you haven't heard, Elizabeth and I are getting married next summer.We chose a venue way up in the heart of the Colorado Rockies near the entrance to Rocky Mountain National Park without having ever seen in person. Our reasoning? Simple logic. By the end of the first week of January, all of the wedding venues in the central part of Colorado were filling up or already full for every Saturday in the summer of 2023, and the one in Estes Park that we had looked at the most had exactly one left. So we watched some videos, and we looked at pictures, and Elizabeth and I took the plunge on Della Terra Mountain Chateau.
Even if we had gone in blind, at some point the two of us were going to need to head up to the area – to tour the venue for real, to talk to our event planner, to check with vendors, and to scope out possible hotel blocks. So when the Omicron covid variant offered us a chance to back out of a Carnival cruise for a full refund in early January, we bit – taking the refund, using it to pay for a weekend in Galveston where our cruise was supposed to depart from and putting the rest toward flights to Denver for Spring Break. We booked up an entire list of things to do from Monday, March 14 to Thursday, March 17 to prep for the wedding. We even managed to secure lodging at Della Terra. It was going to be a nice little Spring Break.
Then Elizabeth found out that her brother was (very) belatedly celebrating his 21st birthday in Breckenridge the weekend before we were supposed to go. It took some wheeling and dealing (and cooperation from the atmosphere, which did not produce any PERiLS-worthy QLCSs for the first half of the month of March), but finally I relented to working on my thesis on a "writer's retreat" from Elizabeth's mom's condo in Breckenridge. Twist my arm, I guess. Pam had a travel agent booking everything for her, which made things nice and smooth for Elizabeth and myself. I just asked no questions, and suddenly found myself moved to an American Airlines flight to Denver late on the night of Friday, March 11. We packed winter gear extensively, which for Elizabeth would be well-used on the ski slopes. For me? Well…
Best of all, though, this would be our first chance to use our brand-new (used) snowshoes we had gotten for Christmas.
My Spring Break began around 2:00 p.m. on Friday afternoon, when boundary layer let out for the day. It was kind of a jolt to realize this was my last-ever school break, but that just meant I needed to make the most of it. I went home to where Elizabeth had already dropped Scipio off at boarding and finished a few packing tasks. We got everything for a week into a carry-on and a checked bag apiece, which, given the winter clothes circumstances, wasn't too bad. By 3:30, we were off to the airport.
Despite Elizabeth's always-present worry that we would get held up and have to wait in security at OKC, there was zero baggage line at the American counter and zero line at TSA. Our bags both came in a smidge under 50 pounds, and everything was coming up us. Even better, OKC had finally completed their food court renovation, complete with everyone's favorite: Freddy's. When I tell you that I destroyed my burger, I'm not lying.
The two of us were on an annoyingly indirect route to Denver that involved a layover at DFW, which only incensed Elizabeth's flight anxiety when we passed a very turbulent flight into Dallas. Our layover in Dallas was mostly unmemorable, unless you count the friendly guy in line to board with us who was very excited to help list obscure airports that DFW flies to on the flight tracker board.
Our flight took a while to take off from DFW to Denver. I'm honestly not sure why, because Elizabeth and I were engrossed in the OU/Texas Tech basketball game in the Big 12 semifinals. Oklahoma had just stunned Baylor the night before and needed one more big win to punch their ticket to the NCAA tournament, and had a puncher's shot after making a big comeback against Tech late. They ended up falling just short after a couple of questionable calls and questionable possessions, which left me disgusted and resigned and left Elizabeth quietly yelling on an airplane. You never want to be that person, but:
We were certainly those people!
At least my frustration over the game helped keep me awake as we rapidly moved toward "it's past Nolan's bedtime". It also doesn't help that Denver airport is a massive, lawless land where luggage takes close to a half hour to pop out. You literally have time to get off your plane, take the train to the terminal, get there, and then wait around for 15 minutes for your bag. At least that time gave me a chance to look at the directions that had been sent to Elizabeth to let us know where to go to get picked up by our private driver (!) who was going to take us from the airport to Breckenridge. Once we had our bags, we met him without a hitch outside the airport, and he took off toward the distant city of Denver and mountains beyond.
Which reminded me…
Yes, it was indeed a pretty long drive to Breckenridge. At least we were quite fortunate not to have a late-season snowstorm slowing traffic along I-70. As it was, our driver was a native to the area who clearly felt no qualms about the sharp drop-offs, sharp turns, and steep grades that I-70 employs. No, he was full steam ahead to and past the continental divide. I had never been to Breck before, but know most of the route of I-70 through Colorado, and recognized the broad mountainous valley with the big reservoir where the driver pulled off and headed south. He amiably chatted with us as he continued to cruise along down State Highway 9 through a darkened horizon that promised looming mountains by the light of day. Finally, he pulled off in the town of Breckenridge, of which my first impression was "Wow, this is a larger town than I anticipated". I kept assuming he would drop us off at any second, but the driver kept going further and further uphill past resorts and condos, until he reached the literal end of the road. Waiting there for us was One Ski Hill Place, a large, Great-Wolf-Lodge looking resort with a broad foyer and a big gas fireplace beckoning in the lobby. The driver helped us get our bags out and sped away, presumably to go get some sleep, while Elizabeth and I headed to the front desk to get our keys. Our (condo? Suite? Room?) was up on the 3rd floor. When we got there, we were greeted quietly but excitedly by Pam, who had obviously been waiting up for us. Pam directed Elizabeth and myself to one of the rooms with a queen bed to share. Elizabeth briskly unpacked while I focused on the more immediate concern of dragging my sorry past-2:00-central-time-ass to bed. Curiosity won out before I fell asleep, though. I had resolutely done absolutely zero research on what Breckenridge looked like, or what there was in town, or anything, preferring to be surprised. But now that I was here, I had to know my elevation.
Now *that* was satisfying. I fell asleep happily.
Curiosity got the better of me just five hours later when the first light of dawn came filtering through our window. As I said above, I had forbidden myself from doing any research on the Breckenridge area. I'm a trip over-planner, and for once I just wanted to show up and see what the town was all about. But by 6:00 a.m, I was burning to know what the scenery looked like. So I looked out the window and wow:
We were staying like right against the bottom of the ski slopes. Like, snow graders went roaring right past my window flattening the snowpack for the next day. That was quite the view. I was satisfied enough to fall back asleep briefly. The next time I stirred, it was simultaneous with noises emerging from the condo's living room. Elizabeth roused herself and we went out to greet her Aunt Terri and Winston himself. We exchanged greetings and hugs and "wows" at the view. It turned out we had a patio, which only served to enhance the view with the sun rising in the back and the slopes beginning to wake up.
Rolling upslope clouds with KH instability on a bright, sunny morning that was warm enough that I could hang out on the patio in shorts? A dream come true.
Breakfast did little to dispel the notion that I was living in a dream. The hotel had a beautiful foyer region behind the lobby and a nice restaurant in the back. When I say a nice restaurant, I mean that the breakfast buffet had eggs, bacon, oatmeal, cereal, and – get this – a breakfast charcuterie. *Breakfast* *charcuterie*. Delicious and incredible. I was feeling like royalty while I ate my half dozen slices of bacon.
Unfortunately, Nolan Meister is not royalty. Maybe Elizabeth Leslie is royalty. After her breakfast, Elizabeth went upstairs to grab winter clothes, then headed out to the ski office to get her skis and lift ticket. Nolan Meister did all of those things, minus the part where he got skis. Because while Elizabeth headed off to tear up the slopes with her family, I went back up to the room to work on my thesis. (Don't get me wrong. I'm very glad Elizabeth got to spend time with her family. I'm just complaining about work). There were some benefits to my morning of work: Elizabeth had bought many, many 21st birthday decorations for Winston, and I gamely volunteered to hang them while they were up on the slopes. It probably took 45 minutes to blow up the balloons, hang the banners, place the little pennants all over the condo, and drape the floaty things, but I was pretty proud of the interior decor by the time a respectable majority of Elizabeth's decorations were on the wall. There was a map hanging in the condo, too, which let me study the geography of Breckenridge (finally. Not knowing where I was had been highly discombobulating).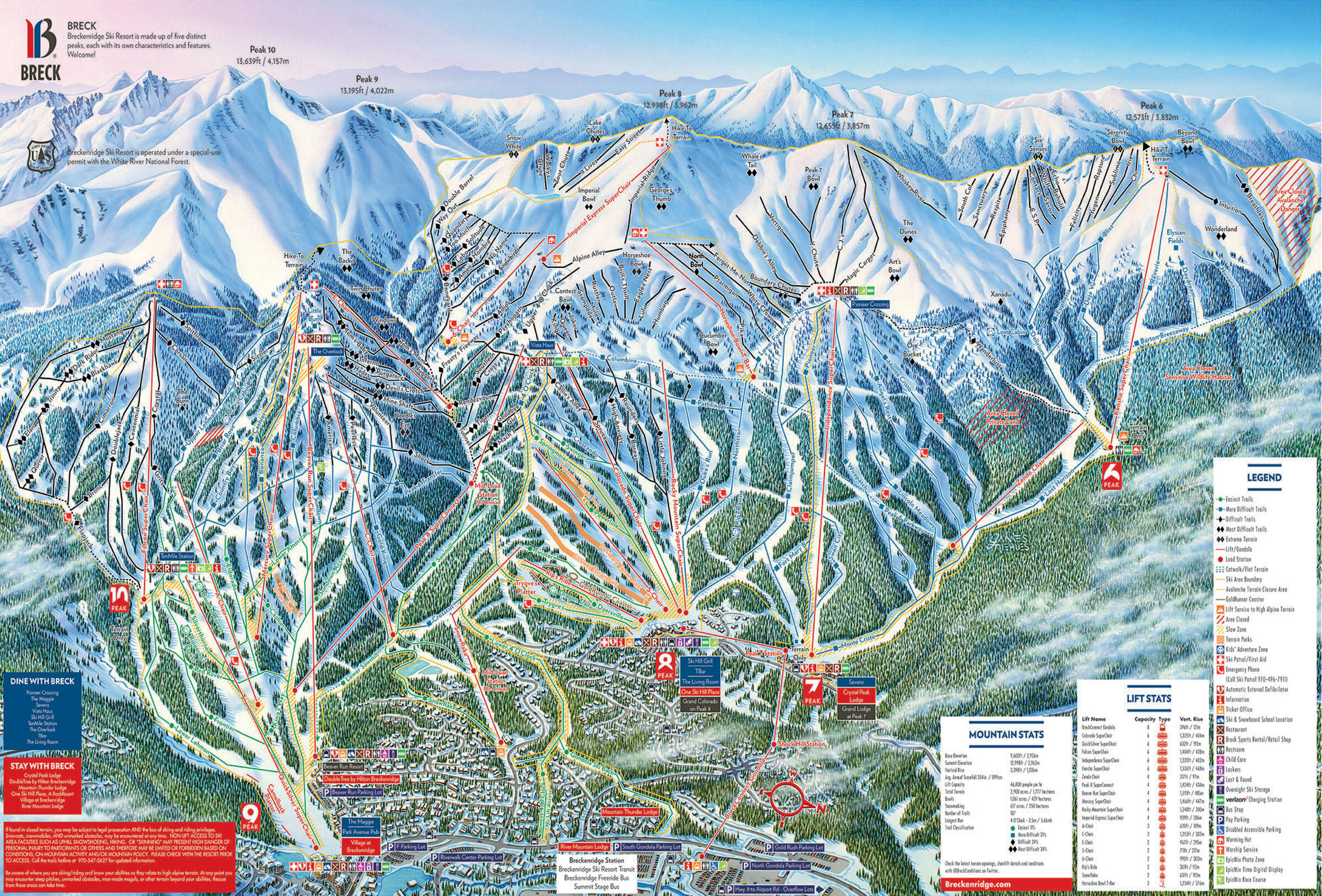 This was a jolt in multiple ways. First of all, Breckenridge the ski area is as large as Breckenridge the ski town. I don't have a huge frame of reference, having only been to the small and highly posh resort town of Vail before. By contrast, Breckenridge sprawls across five of the main peaks of the Tenmile Range (Elizabeth actually asked me why it was called that), and you could never get from one end of the ski area to the other in the same day. More importantly to me, One Ski Hill Place sits at the foot of Peak 8, the most famous peak in town. It's pretty sick – literal ski-in, ski-out stuff for everyone else with the lifts being right out in the courtyard essentially. But Pam had gotten me a lift ticket so that I could take the gondola up and meet everyone halfway up the mountain for lunch. Except… we were at the top of the gondola already! In a way, I was stuck. Resigned to my fate, I moved around the hotel, trying to find the best spot to get an inspiring view to work on my thesis research.
I sat out on the patio in a t-shirt and shorts for a while, with no more than a blanket for warmth. In a way that ruled, but having contacts but no sunglasses on and facing directly into a sunny snowpack did what that does to me, and within minutes I was fighting a migraine. The migraine lasted the rest of the morning, but at least I managed to get enough work done to justify goofing off the rest of the weekend. By that point, I had to lay down and close my eyes to try and remove the green spots from my vision. Migraine-prone people will know what I'm talking about.
Eventually, Elizabeth texted me to get a table at the hotel restaurant. I guess the attempt to eat elsewhere along the bottom of Peak 8 had been thwarted by inadequate cell service to get an early check-in. Fortunately, when I walked down to the lobby, still nursing a pounding in my temples, the restaurant turned out to be no more than half-full. It was no trouble at all for me to get a table. Elizabeth found me there 20 minutes later, seated at a high table and desperately trying to keep the light out of my eyes so that I could get control of my headache. She was very sympathetic to my plight, and also very sunburned and windburned from a big morning on the slopes. Apparently all four of them had had a phenomenal time skiing, a fact that I was glad to hear. Elizabeth doesn't get to ski much in Oklahoma or see family much, so I'm glad she got the chance to bond with them in Breck the way she did. She showed me some stunning pictures of the scenery from way up on the mountainside that had me catching my breath. The Fairchild clan filled me in on all the escapades from their morning over steaming hot bowls of ramen (?!?) from the hotel's unconventional, but pretty tasty lunch menu.
Finally, I had acquired freedom, such as it was. My workday plus headache plus our late lunch meant that it was already mid-afternoon, probably too late for Elizabeth to get back out and ski and definitely too late for us to go snowshoeing. So the two of us salvaged the rest of my writer's retreat day by taking the gondola down the mountain to the city of Breckenridge itself. The views from the gondola were breathtaking – it was a sunny day, and I was finally getting a different perspective of the Colorado Rockies than the view from One Ski Hill Place. The city is laid out in a little river valley between the Tenmile Range and the distant Front Range. Normally I'd enjoy looking at the Blue River near the bottom of the gondola to see just how blue it was, but the entire thing was covered in a few feet of snow, so that was out of the question. Instead, Elizabeth and I toured the slushy main street of downtown, in search of two things: souvenirs and booze for Winston's 21st. Thanks to some clutch mountain-top scouting, Elizabeth had found Winston's favorite alcohol, which we purchased at a local minimart in town. Then we hit the gift shops. In short order, we had our souvenir of choice. Elizabeth had a sweatshirt that said "Breckenridge" while I had a pin with mountains silhouetted in the background. We wandered further down Main Street to a little courtyard with an abstract statue so that Elizabeth could chug a Gatorade (gotta get acclimated to the altitude!) and I could throw a snowball at some pigeons. Then we headed back to the gondola, scouting out a place for me to get the Best Mountain Views. Here's what I got:
Ok. My spirits were rising. There were no more spots in my vision, and I could feel the ghost of John Muir everywhere I turned. I was in a much-improved mood on the way back up the gondola to the hotel. The sun was beginning to retreat toward the distant mountains, which in ski town parlance means one thing: it's hot tub time. Hot tub time is one of the ultimate great things about winter in the mountains. You can go outside shirtless, drink a beer, relax without all of the annoying winter garb. Most importantly, hot tubbing is something I can do as well as anyone else. In such a meritocracy as a ski resort, where access to the best thrills and best memories is directly a product of how well you can stand on two synthetic floorboards, hot tubbing is distinctly egalitarian. Yep, I look forward to evening hot tubbing for good reason.
Not only was I putting on a swimsuit in this circumstance, but I was also meeting a dog. Elizabeth's cousin Michael and his girlfriend Irene were there for the night as well to celebrate Winston's birthday, and they'd brought their new golden retriever puppy Oakley. Oakley was friendly, quite well-trained for his age, and also peed on the carpet. Puppies have a way of humbling the people training them, although the two of them were obviously doing a very good job.
Michael and Irene joined all of the rest of us in heading down to the hot tub. We didn't have to worry about making dinner reservations, or figuring out what to eat, because our travel planner had taken care of that. Thanks, travel planner! Instead, all I needed to do was enjoy the warmth of the chlorine-tinged air inside the second-floor heated indoor pool and hot tub. Or, I could get crazy with it and go to the outdoor hot tub. A very sunswept Elizabeth joined.
Now THAT is what life is all about. Hot tubbing with sunset behind a near-13er (Peak 8 is 12,998 feet tall). Michael joined us outside, which gave me a chance to accomplish the second of three goals on the trip. I'd already asked Winston to be a groosman, and would ask James later in the trip. But neither displayed half the emotion Michael did when Elizabeth and I asked him to perform the wedding ceremony. Which says less about the two of them than it does about Michael, if you know him.
Dinner that night was at one of the fancier restaurants in the village of Breckenridge. The venue was an establishment called Ember, wherein patrons (at least in our case) were greeted by the enthusiasm of the owner's mother while they waited for their table. Ember styles itself as an upscale restaurant with new American fare, which in and of itself is not untrue. But I would describe it as "extra". The menu opened with a screed to the restaurant and its esteemed chef Scotty B (not a country singer, I checked) in which they described themselves as our "spiritual guru". Then, when I flipped the menu to the next page, it turned out that the only option on the menu was a three-course dinner for $75 apiece. Hoity toity indeed.
Into this environment entered Michael and Irene, late and with Oakley stuffed into a carrier that looked enough like a duffel bag to let them get away with it. I had my doubts, but the hustle was indeed respected. It was good they were there – nobody else wanted to split appetizers with me and Michael wanted the exact same two that I did. We made a gentlemen's agreement to split apps, and all of the younger people at the table ordered Moscow Mules to celebrate Winston's birthday.
The apps and the drink were good, but the main course – I got the buffalo – was truly sublime.
I couldn't enjoy it as much as I should have. Next to me, Elizabeth was apparently feeling the altitude and her Moscow Mule a little bit too much, and felt very ill. 10,000 feet isn't a lifestyle for everyone, I guess. Can't wait for this to happen to 20% of the people at our wedding so we can save on our bar tab. As it was, she ducked out of the meal after barely touching her wagyu, leaving me to eat a sad (but absolutely delicious) ice cream from Scotty B himself in haste. Like the committed and great future spouse that I am, I immediately went out to comfort Elizabeth. As soon as all of my ice cream was gone. Oh, and after Michael had shared a story about one of his brother's ex-girlfriends stealing large amounts of money from the two of them. But right after *that*, I was there for her.
By this point, it was late enough that Elizabeth and my ride into Breckenridge the night before was starting to catch up with me. We all headed back up the mountainside from town to the hotel, excepting Michael and Irene, who took their dog to wherever they were staying. Tomorrow I would be free all day, and I needed to be well-rested.