I've written up chase logs of each of my favorite six storm chases from a pretty quiet 2020 – the April 11 supercell near Haskell, TX; the April 21 big hailer near Canadian, TX; the April 22 large tornado near Springer, OK; the May 13 shelf cloud in southwest OK; the May 22 weak tornadoes near Burkburnett, TX; and the August 31 hailstorm in Norman, OK – but there were certainly other days that I chased in 2020. And some of them were even pretty good! It just gets hard to blog all of the days. So, with my "end of 2020" post approaching, I thought I'd write up a quick summary of all of the days that weren't quite memorable enough to earn a 1,500 word breakdown.
April 28 – Newcastle, OK
On a day that fit a pattern for much of late April into early May of 2020, the severe potential on this day was both forced and limited by a southward-moving cold front. Despite rather weak deep-layer shear, a butt-ton of instability along the front was enough to generate a moderate risk where an MCS was most likely later in eastern Oklahoma.
Most chasers decided to try their hand at northeast Oklahoma, but with mesoscale at 4:00 I was limited to finding tail-end Charlie somewhere on the west side of the OKC metro after class. James, Moriah and I posted up near Heyday in north Norman as updrafts exploded along the front.
The storms produced a decent mammatus show over us (we missed an epic #NormanMammatus event later in the evening), but didn't seem primed to do a whole lot more until a hail core near Mustang was reported to have dropped tennis balls. We repositioned to near the Newcastle casino, where I got gas in the middle of a quarter-sized hailstorm. Emerging back out in front of our storm along Highway 9, we were treated to the sight of a compact, well-defined mesovortex within the ragged line.
As briefly as the mesovort had appeared, it rapidly receded into a wet bomb of rain south of Highway 9. Near Cole, I pulled the Mariner off and we endured the heavy precip so that we could enjoy the backsides of the storms as the sun started to set. This mission was accomplished right at the I-35/Highway 74 intersection just a few miles from home:
We made it back to our apartments in time to take in the very end of the #NormanMammatus show.
May 04 – Pryor, OK
This was honestly a very similar environment just 6 days later. A surface low with a warm front in northeast Oklahoma, and a sagging cold front across central Oklahoma.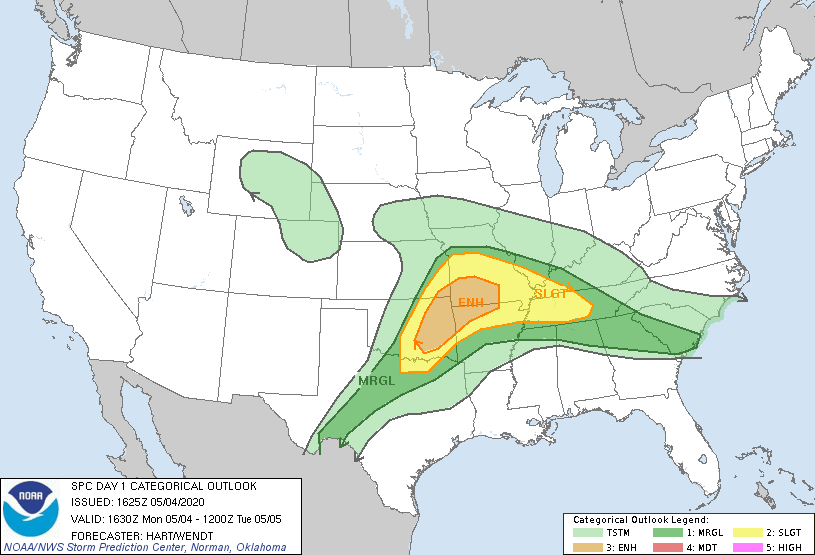 Despite the modest success we had had near home on the 28th of April, James, Moriah and I decided to venture out to the warm front on Star Wars Day. WoFs guidance was suggesting a powerful supercell to ride the front into southeast Missouri, and you can never say never, I guess?
By the time we got northeast of Tulsa, there was a decent-ish storm to our north near Miami. James tried to close us in on the turnpike, but I wasn't buying the looks of it – it looked to me like a large shelf cloud was forming, indicating an undercut storm. James wanted to keep after it, and what resulted was a comedy of turning off and on the turnpike, backtracking and retracking. Finally, James got word from Bruce that a storm to our south, approaching Pryor, had a decent look. We shot south out of Big Cabin and straight into its lightning-riddled forward flank. After some white-knuckled driving, I emerged into an even more lightning-riddled inflow notch, filled with idiots standing outside their cars with a death wish. The supercell itself looked compact and promising.
At my request, James, navigated us haltingly from the lightning-riddled inflow notch to the positive-lightning-riddled anvil region, and then back south into the inflow notch. As the storm passed over Pryor, it made its one good try at tornadogenesis, with a decently warm RFD surge passing over us and a moderately rotating wall cloud. Presently, though, it became undercut and the storm would never seriously threaten to produce a tornado again.
We spent the rest of the chase looking for terrain decent enough to view the storm within the mountains of eastern Oklahoma, and were rewarded with little other than a grungy shelf cloud.
Most galling for me was the supercell that formed right over Norman that afternoon. It drifted southeastward toward Ada with some of the most spectacular structure of the year. Jason was on it the whole way and constantly sending me updates.
May 07 – Norman, OK
An obvious slam dunk case where a highly capped supercell was predicted by just about every model in the upper Red River region of southwest Oklahoma or northwest Texas. James and I were ready to go after it, but Elizabeth was having a bad day, so instead I stayed in Norman to spend the evening with her. It seemed like no matter, especially with an overnight MCS forecast to barrel in to town.
Elizabeth wanted to stay up for the arrival of the MCS, but an earlier round of storms and the attendant lightning left her asleep. After midnight, I packed a couple of beers in the car and drove to meet Moriah and James on the top of the stadium garage. With graduation the next day, it was a nice, last bonding moment as the storm approached – especially when Sam showed up unannounced as well. The storms themselves were rather underwhelming compared to the bonds of kinship and the tides of change that I felt that evening.
May 15 – Quanah, TX
Another day, another sagging cold front. This time, with Moriah's spirits flagging, and just two days off of a diamond in the rough, a whole-ass caravan of myself, Elizabeth, James, Moriah, and Tyler departed southwestward on I-44 just trying to keep ahead of the composite outflow boundary. Pea-sized hail was falling in Norman as we left, and with each passing updraft remaining in the warm sector got harder. We finally managed to get ahead of the outflow near Altus just in time for some intriguing storms to go up to our west.
We took OK-06 to the Red River and got into the north side of Quanah just ahead of the storm's precipitation core. It had an upright mesocyclone vault quite similar to the storm we would see on August 31.
For one brief moment there was something there just outside of Quanah – not that I was stepping outside into the inflow CGs to witness it (this didn't stop Jason, who met us on the side of the road). Given the scarcity of the road network down there, there was no feasible way to continue to chase this storm as it moved south other than to meet it all the way near Crowell. By that time, the area of interest had dissipated and a new line of convection firing to our west threatened to scronch us in between two outflow boundaries.
I decided we should start to head back and just ride out the storms somewhere along the way.
Approaching Vernon, we were greeted by a rather nasty dust storm.
This was followed, of course, by a very wet microburst in Vernon, which made for a wild Subway-in-the-car experience. This was followed, of course, by the storms going tornadic while we sat in their forward flank.
Weird day.
May 21 – Paris, TX
I have nothing good to say about this day. The cheat code lied and this is my only picture.
May 24 – Kenton, OK
On the first day of Elizabeth and my camping trip, short-range models called for a supercell to develop in a mesoscale upslope regime over southern Colorado and drift just to our north. It happened almost exactly the way it was forecasted. Starting with some fluffy boundary layer cumulus west of Boise City:
To the development of deeper convection while we set up our campsite at Black Mesa State Park (I wish I had the timelapse I took handy):
Followed by the development of an out-and-out supercell as we approached the nature preserve:
And culminated with this awesome view from the Oklahoma-Colorado-New Mexico tri-point:
Sometimes life just puts you in a position to get your great structure shots while doing what you were going to be doing anyway.
July 09 – Hammon, OK
An outflow boundary set up over northwest Oklahoma with some CAM support for CI. Sam, James and I monitored a couple of updrafts near Hammon, but they failed to develop.
July 11 – Norman, OK
On the day that my parents drove down all of the furniture they were donating to Elizabeth and my apartment, we got a nice one-two punch of lines of storms. The first one made for nice moving weather:
Then, toward midnight, a wild shelf cloud came in to town, driving 80 mph wind gusts (and a weak tornado). From our balcony, we could see numerous power flashes from the outflow winds. It was seriously one of the wildest storms I had ever seen in Norman.