The freedom of the open road at the beginning of summer can't be beat. That is, unless your open road is a horribly inefficient route.
Yes, Elizabeth and I were on our way to Denver on June 4. We were going to stay the night with her cousin, Michael, and his girlfriend, Irene. We brought all of our camping gear in anticipation of multiple days in the Rocky Mountains, including a few in Rocky Mountain National Park.
After a morning stop at the I-35 Starbucks in Moore, we were off on our way to Denver. It was a nice day for a drive.
I drove first, and had an all-time uneventful driving leg between Norman and Salina, Kansas. Not that I-35 is usually eventful, but a few months later I don't have any memory of it! We got there and visited a Chipotle I'd been to the year before during TORUS. Because of COVID-19 restrictions, a limiting factor for this vacation all around, we ended up eating our Chipotle from the parking lot of a Casey's after Elizabeth went in to buy a Coke.
After that, Elizabeth took a turn at the wheel and we got on I-70 westbound. The stretch of 70 between Salina and Hays is one of my favorites on all of the Plains – green, rolling hills as far as the eye can see. From there, the world flattens out until you've reached another of my favorite landmarks: The Plains Oasis.
With me once again behind the wheel westbound out of Colby, Elizabeth and I continued to make great time toward Denver. The weather started to turn funky in the way that the High Plains do in July – some weak, gusty showers passed by us and occasionally I had to grip it to keep Elizabeth's Subaru on the highway. To torture Elizabeth further, I got into a podcast mood, and started listening to The History of Rome. No doubt for her the miles dragged on endlessly.
The last leg of our boring drive began after a gas stop in Limon:
And now, the good news is that the reader will only have to read a little bit more narration of an uninteresting drive. The sun was settling a bit on the western horizon as we headed through the Palmer Divide when Elizabeth saw something ahead from the driver's seat.
"What is that in the distance?"
That, of course, was Pike's Peak. We were getting closer, and Elizabeth's "mountain excitement" built with each minute. I don't know how many times she asked me to take a video of the approaching Front Range for our vacation video, but it was a lot. I was happy to oblige her, though, because she was just so excited.
Our final obstacle was navigating through the city of Denver itself. Michael and Irene live directly downtown, and I've never been great with driving around downtown areas. To make matters even more nerve-wracking, our visit coincided with the peak of protests and riots in the wake of George Floyd's death. The city of Denver had a curfew in place, which was part of the reason we had been so assiduous in making it to town as early as possible. By common assent, Elizabeth was the one driving as we followed the directions to where their apartment building was. We then pulled off to the side of the road to wait for Irene. After a short moment, we spotted her on the other side of the street corner we had just passed. So close, yet so far. A short moment of maneuvering later, and we were following Irene into their parking garage. Denver!
Michael lives in a sibling-shared apartment, but Charlie was out of town for our visit. That meant we could stay in Charlie's room. The apartment itself was really nice – spacious, nicely furnished, and with lots of windows out facing toward Denver's downtown areas. On top of that, Irene had her dog, Tucker, a friendly older golden retriever who is always looking for the next cuddles. It couldn't have been a more welcoming environment. Not that we didn't have some Michael-isms to get through. You just have to get used to Michael-isms. It never makes for boring conversation.
After entering a more isolated portion of our covid stay-at-home since graduation, it was really nice for Elizabeth and me to just sit in Michael's living room and talk to him and Irene. We stayed up and chatted after dinner, petting Tucker all the while. Eventually, though, it was time to retire to Charlie's room and shockingly comfortable bed to go to sleep.
I don't really know how Tucker had gotten into bed with Elizabeth and me, but he was there when I woke up, looking comfy as could be. As an early riser, I figured it'd be a while before Elizabeth was up, so I killed some time until she awoke. It was a bright, sunny Friday – perfect for the beginning of a 5-day camping trip. We had nowhere to be on the day, and no plans, which in hindsight I realize is deadly when you're dealing with Fairchilds. All four of us took Tucker on a morning walk along the banks of the South Platte, literally just a few blocks from their apartment. Along the way, they pointed out so many different breweries, restaurants, and bars that looked like awesome places to spend an evening in non-covid times. Denver is on my bucket list of places to visit.
Michael was itching to get up into the mountains, so he planned to work in the morning and then leave with Elizabeth and me a day early, with Irene meeting us on Saturday. Munching on homemade pancakes, I wasn't inclined to disagree. While Michael and Irene worked, Elizabeth and I worked out a menu for the weekend.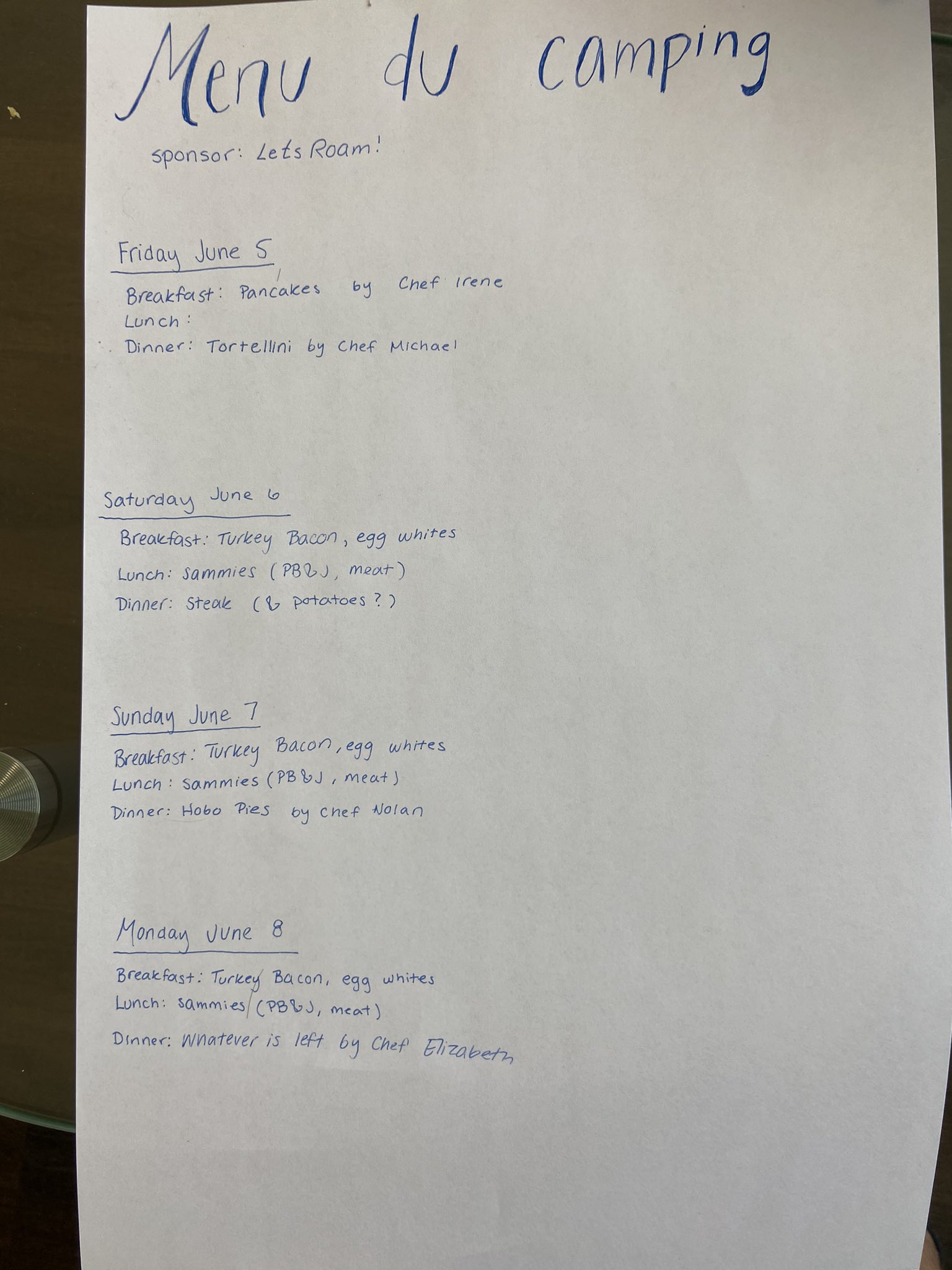 Meanwhile, while we waited, Elizabeth collected some more dog cuddles from Tucker.
Michael began packing amid a flurry of motion in the early afternoon. Elizabeth and I had most of our stuff ready to go, already, so it was easy enough to get set up for our trip into the mountains. A few interminable hours later, he was ready to go to Whole Foods (literally right below their apartment building) to get our groceries for the weekend. It was my first ever trip in Whole Foods, and holy crap. That place is like Trader Joe's on steroids. Just wild, honestly.
After a little bit more packing and preparation, it was mid-afternoon. Elizabeth's car was packed. We were ready to head into the mountains.