Has a field campaign ever started off hotter than TORUS did in 2019? A day one cyclic tornadic supercell, well-sampled – it's hard to beat. And there was an incredibly active period upcoming, with more opportunities to deploy in the next week and a half. The morning 500 mb map from May 18 just screams "multiple-day severe weather outbreak".
Last night's severe weather outbreak was impacting May 18's in a wild fashion. Across much of Texas and Oklahoma, early-morning storms had developed into a squall line and gone tornadic in many places. This included tornadoes in Abilene, south of Lawton, and even as far north as the Tulsa area toward late morning. On the backside of that squall line, atmospheric recovery was expected to peak in northwest Oklahoma into southwest Kansas, with a surface low developing there and supercell wind profiles in place. Although low-level shear wasn't forecast to particularly strong, the potential for tornadoes existed in that window toward late afternoon.
We woke up in Lexington, Nebraska after the events of the night before. Things got going pretty early, because it is 5 and a half hours from Lexington to Woodward, and that seemed like a pretty good staging area. It was a bright, sunny morning, and I was determined to put yesterday's power-cutting mistake behind me by being the best dang driver I could.
Mike, Liz, and I got into Hays right around lunchtime. Hays turned out to be pleasantly surprising – even approaching a level I would call "civilization". We stopped for lunch at a Billy Sims BBQ. I was still feeling nervous around these two bona fide scientists, but less so as time went on. Maybe I didn't speak their boundary layer language (yet, although I was determined to learn), but storms? I speak that language.
Liz drove a bit after lunch, allowing me to sit in the backseat of the giant lidar truck and just listen. The gossip that the two of them know about everybody in the storm world, everybody in the research world, and just about everything in between is astounding. I could have listened for ages.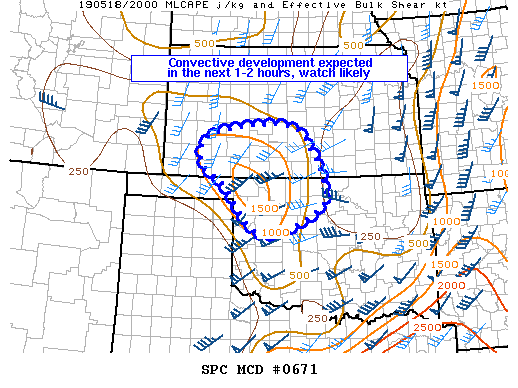 Presently, I was back behind the wheel and pulling into Woodward. A cumulus field had developed directly overhead, with all signs pointing toward a 21-22 UTC storm initiation time. A 20Z sounding from the NSSL far-field team downstream in Waynoka showed about what was expected: an environment that was supportive of organized (although slightly shallow) convection, if not sustained low-level mesocyclones.
Mike made good use of his chat client with the dispersed members of the TORUS team, all of whom had traveled slightly different paths at slightly different speeds while diving south across Kansas through the day. A general concentration of all forces was called for in Alva, an hour back to the northeast of Woodward. Give the cumulus some time to percolate, then choose a target. In the meantime, once again the TORUS caravan was ready to take over a small Plains town.
Presently, some updrafts began to percolate, right on schedule. While a lot of research teams were perfectly positioned for them should they become severe rapidly near Alva, Mike wanted to get east to get some more distance on them. We repositioned to a lot just south of the OK-11/US-64 interchange. And, from there, the waiting game began.
Convection took quite a while to get going. As it bubbled, we continued to wait and drift into position. Now we headed north a few miles, pulling off just west of the OK-58/OK-8 intersection. We at least had storms, but not much more:
No matter. We were officially in deployment mode. Liz got the lidar booted up, and it started scanning away. I put a sounding in the air:
Presently we were joined by the far-field trio of Manda, Jordan, and Glen. Given the fact that our storm wasn't turning right, there was still enough distance between us and the storm for them to follow suit with a sounding 40 minutes later. Whatever storm contamination there was, one couldn't deny that the hodograph was atrocious.
Meanwhile, I was getting science-y. The lidar's realtime returns were coming in, displaying a periodicity of vertical velocity – a few minutes of weak upward motion, a few minutes of weak downward motion. As a junior with zero boundary layer experience, this meant nothing to me, but Liz was stoked. So I put on my best poker face and nodded along. As excited as I was to be there chasing storms and getting paid for it, this was my chance to prove myself as super science-y Nolan.
Meanwhile, the day was continuing to frustrate. It was now past 6:00 p.m. with no sign of a supercell and our storm was barely even approaching severe levels. As can be seen from some images I took from the spot, although there was a decent updraft base the storm never managed to displace and establish a downdraft required to make the next leap into "supercell" territory.
But the 00 UTC golden hour was still approaching. There was still time to turn things around, and, as can be seen in the background of this shot, a storm had formed on the southwestern flank of the one we were deployed on. Mike, acting as always with the weight of an entire research mission on him, made the decision around 6:20. We were heading south to the updraft in the distance.
I could see it out the right window as I blasted south on US-64. It looked pretty shelf-y, but also a significant updraft from what I had seen before. I was just following 64 east to get a little bit ahead of the core when Mike exclaimed that radar was showing a tight mesocyclone. The chase now took on an even more urgent tone in my head. I rolled on into the small town of Jet, and took a right on 2710. Once again I had a visual, and hoo boy were shelf things happening. Three miles south of Jet, I found a suitable (read: flat) pull-off from the road and eased the truck into it. Closely followed as we were by the far-field team, I didn't even need to do everything on my own to get the sonde in the air. Many hands made light work, and the light work allowed for me to take plentiful pictures.
I wasn't even the one who launched the sounding. Instead, I had perfect positioning and my phone trained in front of me as it got sucked up into the storm.
Clearly there wasn't much of a chance to observe an honest supercell here (although, to our south, some friends were observing a short-lived LP supercell, which we could see from our vantage point:
So no S in TORUS, then. No sweat – the boundary layer scientists in my midst could find a lot of utility from an incoming shelf cloud. Liz and Mike decided to switch the lidar into RHI (range height indicator) mode, a mode that I will never ever understand. Looking back on it, I'm just mad that I lost a cold pool vertical stare deployment from my capstone research. At the time, I was just enjoying the show.
That fiery orange sunset behind the shelf grew larger and larger. As it did, the shelf's angry, roiling underbelly showed itself – the aptly named whale's mouth. The whale's mouth is created in an environment of pure turbulence, within the storm's cool outflow region. All that was left to do was wait for that outflow to overtake us – directly under the shelf, which is formed as warm air is forced upwards by the undercutting outflow. Thunder boomed from inside the precipitation core as it approached. The calm before the storm was all the more jarring because of how truly calm it was beforehand.
And then, like that, the outflow arrived.
A stiff, cool wind whistled out of the west into our faces, bringing with it the promise of rain soon. With the lidar unable to deploy in rain, we began packing up for a reposition to the south and east. Inside the chaos and turbulence, I could even look back toward the clear air to the east and see the thunderstorm updraft:
Back inside the lidar truck, we executed a slick south and east maneuver to stay out of the heavy rain. By this point, it was clear that the deployment was over – although the shelf was cool, without a supercell there could be no coordinated TORUS. Accordingly, we began to make plans for the drive back to Norman. The shelf continued to pursue us across the evening sky, with me looking back on it longingly. I waited for my opportunity, until finally Mike said something about how pretty it was and ventured forth:
"Do… you want to stop?"
My motion was carried by acclaim, and we paused just outside of the town of Carrier along the railroad tracks. The parent thunderstorm had completely collapsed, leaving an orphan shelf alone in the sky.
Satisfied with that brief interlude, I was ready to head back. We headed back through Enid (to this day, the only time I've ever been to Enid) and then cut over on US 412 to I-35. Outside Perry, we made one last stop for the night at Braum's for a quick dinner, meeting up with some NSSL friends from the NOX-P radar team there. Eating my chicken tenders dinner, after a long day of driving had yielded (apparently) useful boundary layer data, and with the kind of shelf you only get to see once a year – there could have been far worse days. In fact, far worse days were in store for Oklahoma – after all, we were already looking ahead two days to the 20th, which looked like it could be a major tornado day for the state.