May 17 dawned hazy and humid, the way all great storm days should. I woke up in the Colby, Kansas Holiday Inn feeling absolutely stoked. The SPC had outlined a large enhanced risk area across much of Nebraska, including a 10% tornado probability near the warm front. After all the waiting, it was go time.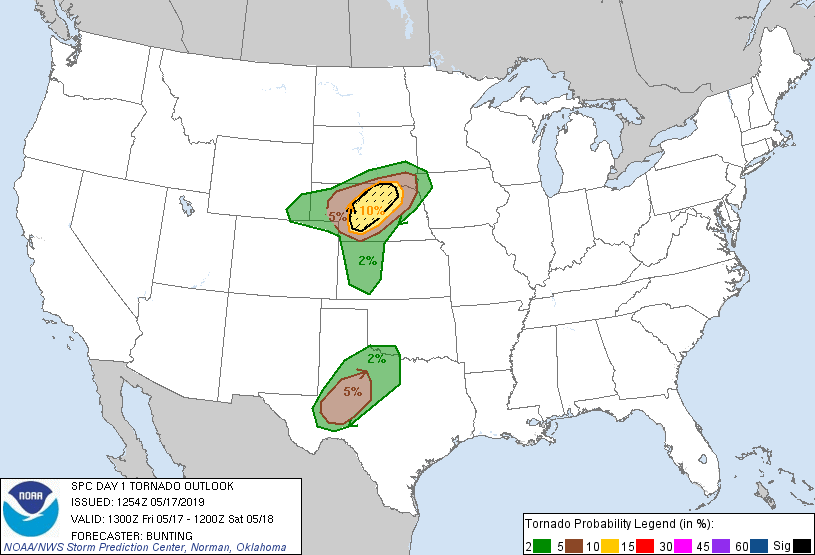 Elizabeth and I were both up early enough that we were able to wander to the other side of I-70 and check out Colby's famous Oasis on the Plains. It had pretty much everything we could have needed – weird fake palm trees in the parking lot, a playground and dog park, a gift shop for Elizabeth to buy a "Kansas" magnet, and a Starbucks. What better way to start the morning?
We met at the hotel other schools were staying at for the weather briefing that day. The synoptic setup had begun, with a 500 mb negatively tilted trough about to dig into the persistent SE ridge: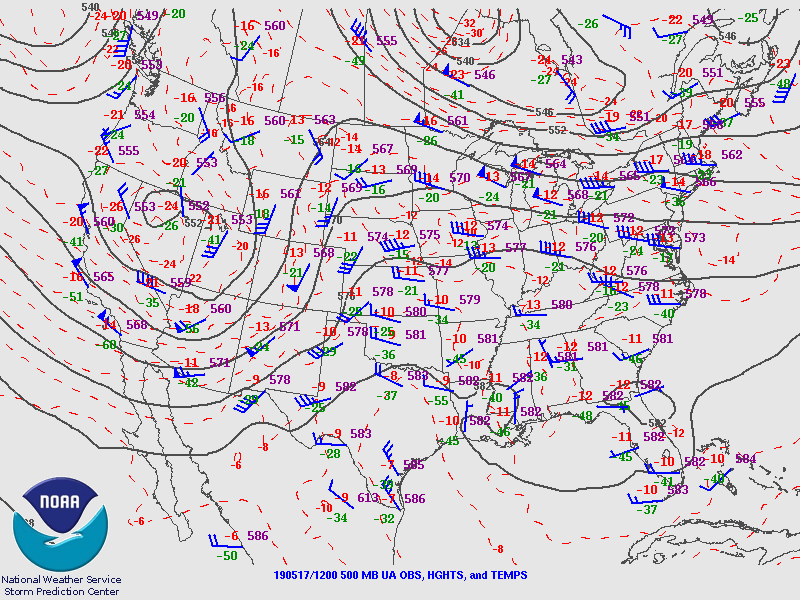 The surface cyclone was centered in the far northeast corner of CO, with the warm front draped across southern NE and a dryline across western KS. Morning CAMs showed that the warm front was likely to continue to lift throughout the day, possibly past I-80 and into the Sandhills terrain that is difficult chasing. However, further down the dryline it was uncertain if the cap would break with more uncertain forcing toward Dodge City. My flippant thought was that the best tornado potential would be near Fort Stockton.
In a lot of these early map briefings, it seemed like there was a tendency toward inertia. Decisions that should have taken a half hour sometimes took 2 to 3 times that long to make. This one was admittedly one of the more difficult decisions, but eventually the PIs agreed that it looked like we should head north. It was getting toward late morning, and we all dispersed to our vehicles, to reconvene in McCook, Nebraska. While loading up luggage into the bed of the lidar truck (a super advanced system that was basically a giant duffel bag held in place by a wooden lid), I accidentally nicked my arm on the Mesonet rack. A little bit of blood leaked out. Excitedly, I explained to Mike and Liz that this was a good sign, and the last time one of my friends had bled on a chase we'd had a great day.
We drove up to McCook. Mike had a GPS navigating for me, but I really didn't like it. The stupid thing was the type to keep correcting once you've arrived, which is unfortunate when your target is no more defined than "go to this town". We drove around and eventually ended up at a strip-mall Wendy's. (This was my first acquaintance with the Wendy's Biggie Bag, and the beginning of a love affair.) I remember hanging out in the bed of the lidar truck, eating chicken nuggets and taking in the scene of an entire research project swarming a strip mall parking lot.
The warm front continued to drift north as the dryline sharpened. I was pretty set on the warm front, thinking that the SSW-ENE orientation of it would allow a storm to form in northeast CO and ride right along the front. Decisions with big field groups aren't made rapidly, but eventually I think the desire to keep the warm front in play tinged the PIs thinking. We were heading north once more, this time to North Platte.
The scene at the Taco Johns parking lot in North Platte was one of chaos. For the first time, we learned that even with the sweet deal TORUS had (unlimited data from Verizon AND AT&T), we could run into trouble from overloading the cell network by all congregating in the same acre.
I'm pretty sure I took the above picture while standing on the bed of the lidar truck. Yes, that probably made me look either super cool or like a total goober, but at the time I was leaning toward the former. This probably was partially a result of the spectacle we were causing. Every local with a Skywarn sticker on his car was gawking as they drove by. You can consider me the performative Bill Paxton.
In due course, a cluster of convection developed near and north of the warm front along the Cheyenne Ridge. The dryline started to percolate, and we even had some elevated cells forming in front of us.
We continued to wait.
Eventually, Mike got sick of the Wi-Fi not working and directed me to drive to the north side of North Platte. We sat in an empty parking lot and I started to pace laps around it. This was also the spot that I became acquainted with a phenomenon that every field researcher knows about – the local that drives up, asks "Are y'all the storm chasers? Is it supposed to be bad later?" That happened like 3 times in a row.
The cluster of storms coming up from near Julesburg, Colorado started to evolve and produce large hail. I was ready for the storm to hit the warm front, but as Mike pointed out (and continued to do so throughout the rest of the day), dewpoints in Ogallala, Nebraska never got out of the low-50s prior to CI. Most of the other PIs, including Adam, wanted to stay south near McCook. Storms started to go up near the Goodland area, and by 4:00 had started maturing into supercells.
Finally, the PIs reached an agreement. After moving from McCook to North Platte, we would reverse course and head back south on US-83.
Things suddenly started happening rapidly. Through the rolling terrain of southern Nebraska we drove, with the skies to our south rapidly darkening. Mike directed me off of 83 in the tiny town of Maywood. Closer-in teams continued south toward McCook and the storms, but we peeled off to deploy downstream of the storm with the MURC in tow.
Just east of the town of Stockville, both trucks pulled off on a dirt road that circled around some silos – nice, level ground for the lidar to scan. I turned off the truck, stepped out, and greeted the first storm of the deployment season.
With the help of the CU-MURC team, I prepped a sounding. One of the MURC members stood on the bag while I slowly filled the balloon up and prepped the sonde. My impromptu assistants betrayed more than a bit of trepidation at the approaching storm. It was still well in the distance, and I offered some advice on what we were looking at (which was really just a distant updraft with the storm 30 or more miles away).
Shortly after releasing the sounding, the something in the truck started emitting a high-pitched beep. It was really annoying, and further predisposed me to sit outside and take in the approaching scene. I had a timelapse running on my GoPro, and teams were reporting a rapidly rotating wall cloud near McCook.
That's when disaster struck.
Remember when I said I turned the truck off? Yeah, everything inside the truck, including the lidar and sounding system, were powered off of the truck's battery. I had killed our equipment with a tornado approaching and us in a perfect position.
God, those few minutes were about as low as a person could feel. We got the truck back up and running, and hoped that we could recharge the battery enough to use it, but I felt like Liz and Mike were going to kill me – if I didn't throw myself into a tornado first.
I was pacing on that dirt drive, feeling sorry for myself and trying to be as inconspicuous as possible, when a member of the CU-MURC team came up to me and pointed southwest.
"What's that?" he asked, clearly not wanting to look like an idiot in front of the meteorologist.
I looked in his direction. "That, my friend, is a tornado."
It was an elephant trunk, barely visible several dozen miles distant. Yet there could be no mistaking its shape. After 20+ years, I had seen my first fully condensed tornado, and under the worst possible circumstances. How do you celebrate that?
All things considered, Mike and Liz were pretty nice to me once everybody had gotten over the initial shock of losing our systems. None of us had noticed the truck being off, and we all shouldered some of the blame (but I'll be the first to admit that I shouldered most of it). When I causally mentioned to Mike that this was my first Real Tornado during the day, he said "Really?" Behold:
The really sucky part is that we were in perfect position for the storm to go right by us (in fact, it produced two tornadoes near Stockville after this initial one by McCook). But there was no reason for us to stay in there with the storm approaching us. So, as it began to cycle and afternoon faded to evening, we bailed east.
From our new spot to the east, we managed to get the sounding system back online. The storm was passing off to our northwest, and producing another tornado, a truncated cone that was a bit hard to see because it was low-contrast from our angle. No record exists of this because when I started to gawk at it, Mike got a bit stern and said he wanted to see a sonde in the air (I think Liz took a picture of it, but I've never seen it. Liz, if you happen to read this, send me that picture). Obviously, the sounding terminated as it entered the updraft, but the low-level inflow profile is noice:
Now we had a problem: there were literally no north options to keep up with the storm, which wasn't the slowest I'd ever seen. Google Maps says we were on State Highway 18 eastbound. If that's a State Highway, I'd hate to see a county road. It was gravel, hilly, and loose. I took it at 70, slowing up just enough to let the MURC see where I was. I was amped up by the tornados and general awesomeness of the storm.
We would never catch up with the storm, although it ended up producing an EF-3 tornado near Farnam, Nebraska that the Mobile Mesonets were all over (go Elizabeth!). We did manage to meet up with the far-field sounding team on US-283 near Lexington, and launch two more soundings into the (now-ripping) inflow region. The original supercell was now a massive HP with a flanking line supercell as well, and two strong circulations.
Check me out in my red OU shirt and CIMMS hat. I wore that thing for like the entire two weeks. Also, the dive really did feel awesome in real-time.
Here's an evolution of soundings from the FFS team that day, with the last two from the same spot, one of which I dove away from:
Pretty incredible environmental evolution of the near-storm inflow. When I look back on this, I really, really wish we had the lidar online on this day.
We continued to pursue the storm into the evening as it passed I-80, but turned around abruptly when it entered the Sandhills. Side note: from the 1 mile I drove into the Sandhills north of Lexington, I now really want to visit sometime.
Our first deployment was done. The initial tension of the truck battery had mostly receded in the excitement of a successful chase. A lot of times, when I mess something up I have an issue with feeling like I shouldn't be happy because of it, but on this particular evening I was caught up in the infectious mood. We traveled back to Lexington, where reservations had been made at Holiday Inn. Once again, Liz told me that I could definitely find a research project from the lidar data, provided we actually got the lidar up and scanning on one of the storms. (Side note: the hodograph timeseries from the data we actually did collect was still pretty interesting).
It was late by the time the lidar pulled into the Holiday Inn, but the mood was jubilant. The NSSL NO-XP radar had collected a complete dataset of the supercell, both mobile Mesonets had surrounded multiple tornados, and the team had generally worked as expected. In fact, lidar issues notwithstanding, it was probably the most complete dataset collected during the month of May.
To celebrate, a large group of people went to Nebraskaland steakhouse in Lexington. Tornados mean steak for dinner, obviously. If you're ever in the area and looking for a celebratory steakhouse, don't say I didn't warn you. Admittedly, we were a large group, but the service was apathetic and the food somehow worse. It didn't matter. Scientists from universities across the spectrum were in the mood to celebrate, and celebrate they did. Pictures were exchanged. War stories flew across the room. Anecdotes about the data surged from person to person. I was particularly intrigued by the obvious change in effective shear in our soundings between 23:55 and 00:00 UTC (have I ever done anything with that intrigue? Nope).
To cap things off, around 10:00, a line of storms came through. Mike had been outside watching it for a while, and he came back in to tell us the lightning was incredible. I walked out to join him with a few others and we stood there, entranced, by the sight of thunderheads lighting up after dark like the world's largest Christmas light show. Please enjoy my crappy iPhone video of it:
It had been an eventful first day of TORUS operations. We circled for a while before finding our storm to deploy on, but we chose the storm of the day (except for two other discrete supercells, one near Dodge City and one near Fort Stockton. Both were cyclic tornado producers as well). Then, I made a mistake that probably cost us the deployment of a lifetime. It could have been easy for us all to feel sorry for ourselves, blame me, and ruin our chances both to collect data that day and poison the well in the future. I'm thankful that the two scientists in the truck with me were so understanding, and that I was able to bounce back. After all, this kind of stuff happens in field research. I ended up seeing my first fully condensed tornado, other members of TORUS collected groundbreaking data, and we still had an active few days ahead of us.
It was time for bed. Tomorrow, the risk shifted south to Oklahoma.