This is going to be my first-ever attempt at live-blogging the entirety of a winter storm. I've wanted to do it in the past, but lacked the discipline to do so. If I've published this, that means my discipline improved for this event!
The upshot: it is Monday, January 31, 2022. By Wednesday the 2nd of February, a winter storm is likely to unfold over most of Oklahoma and last into the day Thursday. Winter storm watches are in place for most of the state already:
In classic "Oklahoma winter storm" fashion, the big question will be the precipitation type. For the most part in this blog, I'll focus on my thoughts for Norman, since that's where I live obviously. And to be honest: I'm not sure what precipitation type is going to fall yet: we still haven't gotten our cold front to push in from the north, which will happen tomorrow afternoon and evening. That will help clear up surface thermodynamics at least, which seem to be marginal on several models on Wednesday for snow. Besides that, the classic Oklahoma warm nose may lead to some issues in changing over to pure snow around here. In my opinion, this looks like an event that will lead to a lot of freezing rain or sleet, with snow possibly coming at the end on Thursday.
Early guesses to amounts? A big old shrug on my end. It depends on how well the two waves of precipitation phase for us. The early wave will drop south from Kansas on Wednesday afternoon, with the likely heavy burst of sleet and ice coming in the evening. After a likely break in the precip early Thursday morning, a much more uncertain wave of precipitation may occur during the day on Thursday. This one would likely be all snow. However – I'm not too about the longevity or intensity of that wave. With that in mind, I'm not too inclined to disagree with the NWS's initial winter storm watch of 1 to 6 inches of snow and up to a tenth of an inch of ice. If anything, I could see us exceeding that ice accretion.
I'll surely drill into more specifics over the next couple of days; I just wanted to get my initial thoughts out for now.
Tuesday, 8:00 a.m.
Winter storm watches remain in effect. I am moderately interested to see if NWS Norman goes with winter weather advisories, or upgrades any part of their area to warnings. As of right now, I would not issue a blanket warning for the entire Norman CWA, although I certainly would for much of northeastern Oklahoma. Diving into event specifics a little more:
As of this morning, a frontal boundary is sharpening across northwestern Oklahoma. That boundary should dive southward this afternoon and evening, beginning our cold air advection regime at the surface.
In the meantime, warm advection aloft will begin overrunning precipitation as early as this afternoon, which will likely begin in the form of rain across northeastern Oklahoma. My hunch is that we will then see drizzle continue across much of the state into the morning hours with the freezing line creeping south – that classic underforecasted freezing cold drizzle event that precedes a lot of our winter storms. Then, by afternoon, the main event should get going across southwest and central Oklahoma.
I'm still not sure how long Norman itself will sit in the band (we may sit right on the edge of the dry slot, and get limited to only 6 hours of winter storm as opposed to 12 hours just to our northeast). I'm still not entirely sure what precipitation type will fall, although most models (the HRRR excepted) are starting to trend away from sleet and more towards snow within that band. But, if we manage to stay in it just long enough, we might pull a pretty decent winter storm out of our hat.
Right now, I think 2-5 inches of snow would be my forecast for the Norman area, with under 0.1 inches of ice and possibly up to an inch of sleet as well. Let's see how that holds.
Tuesday, 10:00 p.m.
Ok. So throughout the day, I think we've gotten some clarification on what's going to go down. First of all, winter storm warnings are out for most of the state of Oklahoma.
The warning is pretty tame, given that it only mentions snow totals of 3 to 5 inches. However, there's been a gradual trend toward… more precipitation, especially in that band tomorrow afternoon and evening.
With that, OUN has included wording that locally higher snow amounts of up to 8 inches are possible within the warning area. Will that happen here? I have my doubts. We're far enough southeast that I don't expect a clean snow event here; we're probably going to start out the major band of precip with sleet. If the warm nose is stronger than forecast, like every other winter weather event in history, we may get sleet for a good chunk of the band. But still – models show QPFs over 12 hours of 0.7 when temperatures at the surface will likely be below 25 degrees. I'm pretty confident that we'll get some combination of several inches of sleet and snow, enough to cause decent impacts.
For now: the cold front has passed by us, with showers developing to our northeast.
Most models had sped up to show freezing temperatures arriving at 12Z, but I don't think that's gonna verify if it's already 33 in Blackwell and dropping. My expectation is that freezing drizzle develops by morning, with convective sleet and graupel elements mixed in. Then, there should be a brief dry period around midday, where we wait and see what's going to happen. Then: the band.
I'll go on the record and say I'm feeling more optimistic that we get either 4+ inches of snow or 2+ inches of sleet. Let's see if I'm right!
Wednesday, 7:00 a.m.
Happy groundhog day. The fat beaver has seen his shadow, and it doomed us to 6 hours of freezing drizzle this morning. Conditions are deteriorating rapidly, although the howling wind is helping sublimate ice on the streets and sidewalks so far. Plus, the multiple 60 degree days have pavement temperatures pretty warm. That doesn't do anything for the staircase leading down from our apartment, as Scipio learned the hard way this morning. Grass is feeling a little crunchy too, and the Norman Mesonet site's anemometer has gone offline.
The rest of the forecast is going almost exactly as anticipated, biases and all. It's colder at the surface (significantly colder):
And as for our friend the warm nose?
Whatever happens today, it's going to be high-impact because of how cold the surface will be. But it's not going to be a high-impact freezing rain event this afternoon. It's either going to be sleet or snow.
9:30 a.m.
Temperature has dropped to 26. Wind continues howling. I think there's a breaking the freezing drizzle, but our frontogenetic precip band is developing over north Texas. Forecasters are now worried about an underdone warm nose, which I've been on top of for days now. Starting to lean towards sleet.
10:30 a.m.
I take back what I said an hour ago. A special 15Z Norman sounding showed that the warm nose is almost entirely below freezing…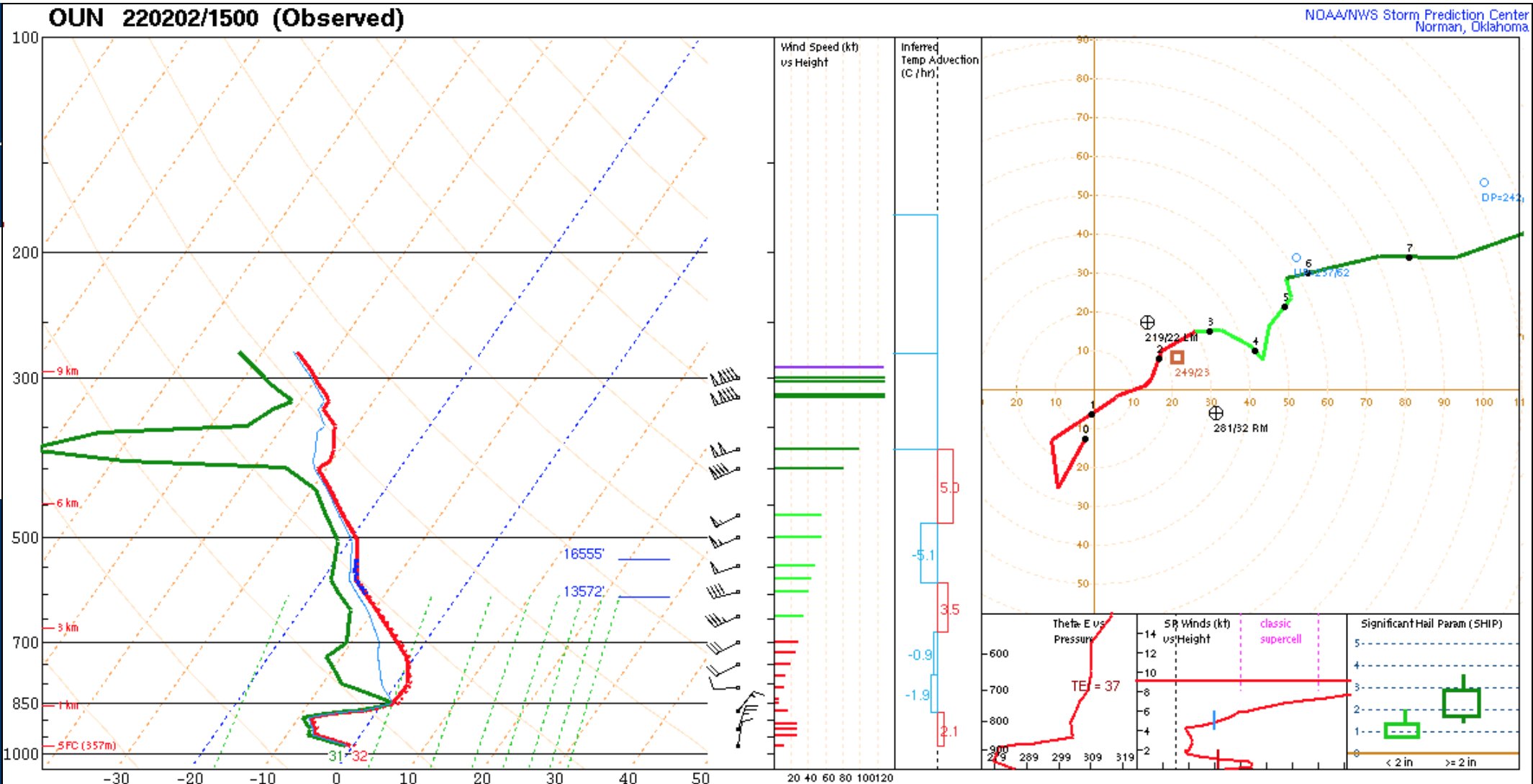 We should still see one more sounding at 18Z, right as the precip begins, but it may end up being a snow event after all.
12:30 p.m.
My paranoia has shifted from the warm nose to QPFs. It appears that there's going to be a sharp gradient in snowfall somewhere right along I-44:
And based on radar, I don't necessarily see Norman ending up on the good side of things. We'll have to keep our fingers crossed.
2:00 p.m.
It's finally begun. The first sleet pellets of the event are falling outside:
Radar shows a decent band of heavy precip developing near Lawton and moving near/just to our south. I'm going to take a brief nap and see what's going on when I wake up.
3:30 p.m.
Things are heating up around here! The wind is still howling. Scipio and I braved the sleet at one point early in its life:
Then Elizabeth and I settled down in bed for a while with a nest of seven or eight blankets, including her heated blanket. We stayed plenty warm even on top of the bed, aided by a Scipio who snoozed peacefully between us. After one episode of Dynasty on Netflix, with social media touting the shift from sleet to snow, I stepped back outside into a wonderland of wind-driven medium-sized flakes:
He didn't love it outside – in fact, a few minutes ago I opened the door to the patio and he refused to do the normal thing where he runs out to the rail and peers aggressively at the world. Now I'm sitting on the couch, waiting for the big snow band on radar to get here:
Once it gets here, Scipio, Sam, and I are headed back to the pond at The Links.
4:30 p.m.
When I said big snow band, I guess I meant big sleet band. Because we somehow managed to transition back to sleet in the last hour. And some of it is pretty heavy – we already have accumulating sleet sitting on our porch.
9:00 a.m. Thursday
Well, in the end, we pulled a decent little event out of our hat! After the change back to sleet, I was pretty discouraged about deep snow, but it appears that it was just a temporary subsidence blip associated with weaker precip rates. I met Matt, Stephen, and Sam out on the golf course at about 5:30, by which point the sleet rates were picking back up again. Scipio and I were the first ones out there, which let us zoomie for a while:
Then when Matt and Stephen proved to be extremely delayed, we started to get cold and tired of wind-driven sleet being pelted into our faces. They eventually made it outside to aid in my Great Live Shot:
By which point we noticed that the sleet was beginning to change back over to heavy, wet snow. We parted around sunset, and I took Scipio back to the apartment so he could warm his poor little paws while I had two bowls of Elizabeth's homemade chicken noodle soup. We settled in to watch some Netflix and some curling, all the while snow continued puking outside.
Maybe puking was a bad word to use. Scipio got extremely sick at 5:30 this morning, and I spent an hour cleaning up his vomit all over our apartment. I haven't been outside yet today, but it looks like Norman got a solid 3-5 inches of snow with the lower amounts here thanks to that pesky freezing line.
Still, we're not going to complain about being in that nice little higher amount band, especially since there is still moderate snow falling and evidently we may end up with several more inches of snow today. I'm going to go measure our snowfall here soon, but it's cold and blustery and the wind chill is -2 so I'm not really in a rush.
Postscript
We ended up getting a pretty decent snow event in Norman! I don't think there's any reason to complain – Sam got "7" inches of snow in his measurements, while I ended up more in the 4 inch range (although there was a bit more snow that fell after that during the day on Thursday).
In fact, Thursday morning was really peaceful – Elizabeth slept in, leaving me to enjoy a nice hot chocolate bomb on my own with the dog after our adventure.
All the while, big, pretty snowflakes kept falling.
What I really wanted to do? Play in the snow. Maybe it was a callback to the 2020 snow day that I had shared with friends, but I just wanted to do something fun. I quickly learned that Elizabeth did not share that enthusiasm, which is fair given that wind chills were hanging out near zero. But still. I wanted to have fun. I was able to convince her to join me outside with the dog for like 10 minutes, in which time he showed off his snowball-tracking skills.
But the sensible half of our relationship was ready to head back inside afterwards. I was not, and so I texted Stephen, Matt, and Sam, and asked if they wanted to go to the OnCue along Highway 9 and US-77 and sled down the embankment. Indeed they did! Perfect.
A few hours later, the four of us were meeting outside my apartment in the bitter cold. I had a pair of sleds in tow that I was trying to put in the trunk of my frozen-solid trunk. I turned on the car and let things get defrosted, but the liftgate wouldn't open. After tugging and tugging, I was able to get my glass windshield to pop up and stick them in through there. The four of us got snug in the car and ready to drive when I noticed that I hadn't closed the liftgate properly. And that's when I discovered that my car was broken – specifically, the liftgate hinges had fractured under the stress of cold and ice. My windshield was now barely hanging on.
Just to clarify, this is not good. My car was now out of commission and exposed to the elements, since the windshield wouldn't pop back into place. In a fit of creative problem-solving, I decided to tape the hinge and windshield together so at least once the roads cleared I could drive my car to the dealer in one piece. (Side note: it worked, and my windshield was spared. The hinge replacement was still nearly $400, or 20% of my monthly paycheck. Whoopee.)
While I was problem-solving this, the other three were warming up in Elizabeth's now-defrosting car. It wasn't until I finished scraping ice and snow from her windows that I saw that Elizabeth's gas tank was nearly empty. Well, I guess it's a good thing we were going to a gas station to sled. I drove there and pulled into a spot, only to discover that I'd left my credit card at home and that the gas cap (which in Elizabeth's car is fully automated) was frozen solid. Cool cool. Eventually I had to take a library card and manually scrape all of the ice out of the crack in the gas cap to free it so that Stephen could pay for a tank of gas and I could venmo him for it. This is what we in the industry like to refer to as "an ordeal".
After all of that, we were finally able to go sledding – although, due to the continued falling snow, high winds, and frigid temperatures, we couldn't stay out longer than 45 minutes or so. We took turns sharing the two sleds and trying not to go bombing right into the OnCue parking lot with everyone else on the hill.
Notably: unlike in 2020, this time I managed to not throw out my back, but at the cost of riding the fast sled on my knees right into a tree and bruising my arm. Some things are worth the costs though. Sam didn't quite have the killer instinct:
After those 45 minutes, Stephen's beard was frozen solid and Matt's face was pale, so we retreated into the OnCue to warm up. It had been a fun activity, but at quite the cost!
I stayed safe the rest of the Thursday, excepting a brief jaunt out to Thai Delight to pick up dinner. When I awoke Friday, it was a brilliantly sunny, albeit cold day.
The snow actually blessed us by sticking around for a few days in shady spots, making for some lovely walks with Scipio in the afternoon trying to avoid snowy patches. I think he would love snow if it wasn't so dang cold. All in all, it was a pretty fun, solid little snowstorm!