The first chase of the year assumes a magical quality. After a long fall and winter, there is nothing that raises my spirits more than the feel of mid-60s dewpoints, the sight of the Rolling Plains as far as the eye can see, and towers rising out of the cumulus field all around you. For me, making it until April 11 before embarking on my first chase of the year shows *remarkable* restraint by my standards. This is partially in response to the COVID-19 pandemic – I don't really feel comfortable chasing beyond where I can get back to the same day.
By this past Friday night, it became clear to me that April 11 was going to be my first chase of the year. A north Texas dryline and pseudo-triple-point-surface trough would be the focus by Saturday afternoon.
It was a little hard to trust the HRRR, which had been in the middle of a not-great stretch in moisture return events. That tended to point toward more of a northwest Texas event than further north up the dryline.
I spent the next morning desperately preparing to get gear together to leave by noon. Elizabeth and I pulled off a record grocery trip in under an hour, and I somehow managed to find all of the camera lenses for her Canon. Our most exciting discovery was that the funny smell in Elizabeth's car that we had noticed the last time we went into it two weeks previously was spoiled milk sitting in the back. That made for another fun half hour of frantic cleaning with every disinfectant known to man, and then a fun day of pretending we didn't smell it.
James and Moriah arrived around 11:30 as I was still hunting down my last pieces of gear (atlases, tripod, GoPro…), and we were out the door. Shortly after leaving, I was surprised to discover that the SPC had upgraded parts of the Texas Rolling Plains to an Enhanced Risk and added a 10% tornado contour. We expected supercells, but with weakish low-level shear. It was a "whaaa?" moment.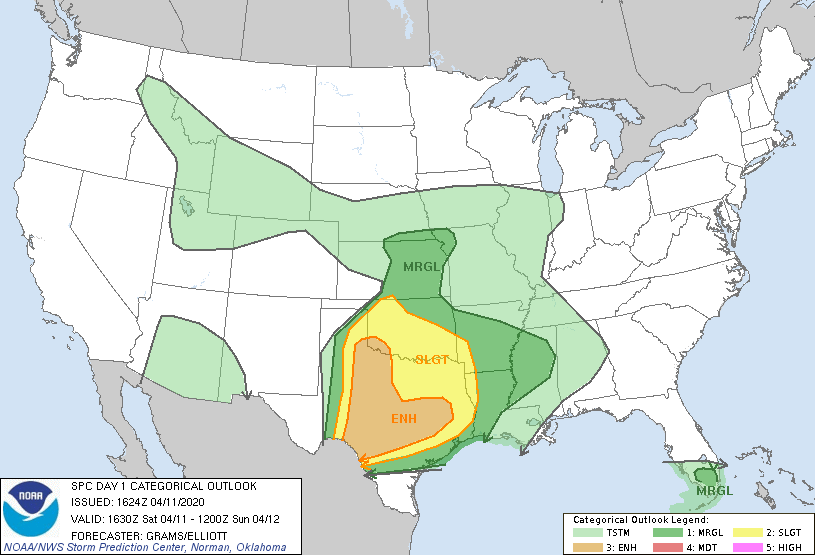 Taking care to disinfect our gas pump before fueling up, we decided to head southwest toward Wichita Falls before making any further decisions. In my view, there were two targets: initial supercells aided by warm air advection along a convergence boundary near Snyder, TX, and potential storms later along the dryline near Childress.
James and I watched satellite as we drove down I-44, and as we got closer to Wichita Falls some attempts at CI began near Snyder.
After a quick stop near Wichita Falls, we decided to drift southwest for a while toward Seymour. The updrafts near there seemed like the likeliest candidates to mature into supercells, aided by the convergence boundary and a fair instability-shear environment. I've driven US-277 between those two towns before, but never during the spring green-up before. The fields were a vibrant green.
As the hour drive to Seymour wore on, the next course of action became clear. The southern updraft circled above matured rapidly into a dominant supercell. Reports on Twitter surfaced showing a ragged lowering beneath it, and it appeared to exhibit a bit of a right turn on radar. I set a new course for the town of Haskell to intercept it and Elizabeth cruised at Texas highway speed toward our first storm of 2020. The forward flank gradually grew into view. While discussing with James about where to stop, I looked off to the west. "Holy shit, I can see the lowering!" And here, in all its 75-mph-telephoto-from-30-miles-away glory, is my first chasing picture of 2020:
We drove into Haskell and went west a ways on US-380 toward Rule. The storm was menacing the highway, and we weren't too sure how hard its right turn could be, so we decided to stay along 380 ahead of the storm a bit. For a brief moment, we popped out from under the anvil shadow and got a view of a crisp updraft rotating into the clear blue sky above us. I hope James got a good picture.
Between Haskell and Rule, we got a good vantage point of what I would describe as an organized, but somewhat outflow-dominant supercell. Thunder rumbled in the distance with a crisp southerly inflow. The field in front of us was startlingly green, with pretty coloration in the clouds (note: my Canon shots came out pretty dark. Looks like I need to improve my understand of lighting settings). I'll let some of the images from this spot tell the story:
The storm eventually got close enough that I figured it was time to gain some more mileage on it. If we could get far enough ahead of it, I planned to pull out my GoPro and get some timelapse footage of the storm. (I didn't charge up my GoPro batteries and none of them had any juice. Oops). We pulled east of Haskell, where the storm was maybe a bit more lackluster visually than it had been before. It would have been a good time to set up a timelapse if a certain idiot had remembered to charge his batteries. Otherwise, it was just a watching game on a dirt road: https://twitter.com/CameronJNixon/status/1249086057641017345?s=20
A big, beefy inflow band did indeed form to our west, for a while so low that we couldn't see it over the trees. Eventually, we started to notice some weak areas of rotation. One, fully on the left of the inflow band feature, had moderate rotation for several minutes but nothing that I ever felt like was imminently trying to produce a tornado. We also saw some transient rotation on the right edge of the inflow band. That was never able to establish itself either. We also happened to meet Spencer, another OU student, when he and his buddies stopped at our intersection. I talked to him for a few minutes from a safe distance as we watched the storms.
The persistent moderate rotation (and establishment of a hook echo which can be seen in the last image above) was enough for NWS San Angelo to issue a tornado warning, the first red box I had been inside of in 2020. The tornado warning continued as the RFD gust front started to approach our position on 380. I would have loved to stairstep north with the storm, which was still drifting just north of due east, but there wasn't anything that I felt confident in going north on until Throckmorton. Thus, we made the decision to head another 5 miles or so east.
Our next stop resulted in seeing the storm when it was probably at its most mature. Reports from chasers closer to the base and visual cues suggested that the base was undercut by its own outflow – a manifestation of that weak shear and dry mid-level air likely resulting in a thermodynamically forced RFD. However, for a few minutes we actually witnessed the storm pulling its own outflow boundary from south to north across the fields in front of us – the outflow being shown by the cloud band front left here:
This feature was moderately rotating as well, although I can't be sure what happened in the moments before this picture was taken, since I was looking away:
Given the overall storm structure and the ragged look of the cloud base above this image, this edition of #SpinningDustWatch2020 appears to have been caused by a gustnado in that outflow. We saw several more of them over the next several minutes as the storm approached. At one point, the outflow actually overtook us – and holy crap, was it cold. The wind picked up and we started shivering. That was our impetus to eventually head eastward again.
By this point, we had come about 3/4 of the way from Haskell to Throckmorton, and it was about 5:00. We'd followed our storm for maybe 2 hours and it was visibly undercut by outflow. A new opportunity was presenting itself to the southwest, in the form of a rapidly developing supercell toward Anson. We could see the base from near Throckmorton, much as we could see the base of the initial supercell from 30 miles downstream. Our storm made one more valiant attempt to our northwest, carving out a small horseshoe base.
There was quite a bit of rain and dust kicked up by the RFD:
But, as the following two iPhone shots show, this became undercut and outflowy as well:
Our storm was now in its death knell. Part of my goal this year is to be more patient with my decision-making, so I instructed Elizabeth to go into Throckmorton so we could make a decision about what to do next. Of course, I felt silly once we pulled in to a gas station, because the skyline of the town (such as it was) obscured our vision of the storm base. So we headed about a mile north of town to take a look. About a minute of careful inspection later, James and I concluded that it was time to head south to the new storm. Elizabeth turned around on US-283, and we set a path for Albany.
283 was surprisingly a bit of a hellscape. We found the "Rolling" in "Rolling Plains", descending into a river valley that cut off our sight of our new meso. There were also quite a few trees, and little service. The few radar scans James and I were able to procure seemed to indicate we'd made the right choice – our old storm was dying north of Throckmorton, and our storm was bearing down on the town of Lueders with a decent meso.
Given the river valley to our west, I wasn't confident we could get near the storm west of Albany while still keeping in play as it went east. It took some hemming and hawing to decide, but eventually we pulled off on a side road with a view, such as it was, to the west. From where we were, I figured the forward flank would tickle us as it went by and we'd be perfectly in line for the circulation.
It turned out that I gambled a little bit too far north. Given the increasing sound of thunder, and our admittedly kind of crappy vantage point, we decided to go south a few more miles. This was kind of complex, because the right shoulder was closed, but eventually we found a spot on the northbound shoulder. Another tornado warning was issued for the storm, and our positioning was perfect.
Our storm had slowed down compared to similar updrafts in the area, so much so that another storm was getting ready to ram into it from behind. It definitely had a solid mesocyclone as it approached (see radar), but the low-level circulation seemed to travel too slowly compared to the parent updraft, and the parent updraft eventually tilted so much that it tore away. I'm not sure if that's what happened, or what meteorological basis would cause that, but it's what it seemed like visually from the images above.
We waited until the storm was nearly on top of us. This time, the wind was cool and from the north – out of the forward flank. I figured this storm was done. 7:00 was approaching, and it was getting toward last chance time. There was one last storm, this one directly southwest of where we were, and if we got into Albany and a little west we'd get a good view of it. We did just that, and somewhat to my surprise the storm actually had a decent meso on radar. We pulled off with every other chaser in the world. The circulation was embedded in the rain:
but seemed to emerge just in time for it, too, to die:
The tornado threat from the day had been totally extinguished. We were almost all the way to Abilene, so in order to get home we would have to turn around pretty soon. First, though, I wanted to head west and see the rain shaft and updraft of this storm backlit by the setting sun. We did just that and were treated to a carwash and a beautiful sight:
Interestingly, most of those images are from my phone. The light contrast from this shot completely defeated the Canon (excepting the last picture). It was a Great Structure With Great Friends moment: https://twitter.com/eleslie_wx/status/1249134409099460611?s=20
Elizabeth and I switched seats and I started to chart a course back to Norman. The sunset lit up nearby updrafts in a series of colors that could best be described as cotton candy, salmon, and coral. I'm sure it was breathtaking, but with a hungry (and needing to use the bathroom) group in the car, unfortunately we didn't stop. I'm going to try to make this part of the day more of a priority the rest of the year – the best images and memories seem to come from the sunset storm pictures. Anyway, I raided Elizabeth's phone and here are some of the breathtaking shots she took:
We didn't get back until 11:00, after one final gas stop and dinner on the go. My first chase on the Texas plains since last May felt like more of a homecoming than anything else. 2020 had gotten off to the right start.