Sometimes, you travel to chase the storm. Sometimes, the storm hits your home. On the last day of August of this year, we got a little bit of both – a Highway 9 supercell that stalled right over Norman and produced some of the wildest weather I saw in what was a pretty crazy year.
Although August 31 looked like a fairly typical summer high-CAPE, low-shear environment in Oklahoma, I was surprised to see several runs of the morning HRRR take a supercell and yeet it through the OKC metro.
Perhaps even more surprisingly, the SPC outlined a small 5% tornado probability essentially in central Oklahoma for that afternoon.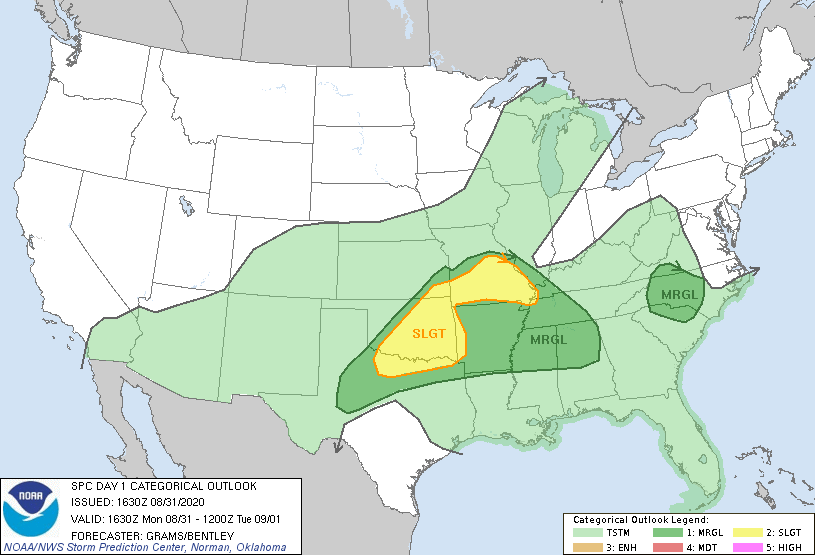 Synoptically, a cold front was slowly sagging into the area, with modest deep-layer shear but significant low-level veering of winds – the typical environment to produce just enough shear for short-lived supercells in Oklahoma in the middle of summer, in other words.
By early afternoon, it had become clear that I was going to be chasing. Ahead of the cold front, there were some boundaries shaping up on radar that figured to help break the cap. Sam, Elizabeth and myself had begun to narrow our target area to the west side of the OKC metro. Jason was driving up from Wichita Falls and hoping for storms closer to Lawton. We planned to meet up with him eventually.
A little before 4:00, Sam arrived at our apartment and we moseyed on out of The Links. Our plan was just to move westward a little bit and see where the storms initiated. The timing was perfect; literally as we merged from I-35 onto Highway 9 westbound south of the river, an updraft began to catch my eye to the west.
Sometimes, you have to drive for some time before you can tell whether or not the distant tower is gonna have staying power. Not in this case. Just three minutes after the aforementioned shot, we crested Big Hill on Highway 9 and got a good look at a beefy storm base:
Now came the next question: where to post up and wait for the storm? Its initial motion was north of east, but accounting for the expected right turn I figured it was going to come straight for us. After first taking 62 into Blanchard, I figured that we were probably safe to slide back north a ways, and we headed north on State Highway 76 about halfway back to Highway 9, posting up in a broad lot along a creek.
Meanwhile, Jason was trying to catch up with us. I will not post screenshots of how fast he said he was traveling up I-44 to get into Blanchard, but it was fast.
Meanwhile, our storm was rapidly organizing. It developed a crisp left edge to the updraft, and the updraft base continued to broaden as the storm approached from the west.
The storm was developing so rapidly that I could see the anvil fanning outward directly above me.
The opening phase of the storm was rather reminiscent of the Burkburnett, TX tornadic supercell from 5/22/20. Sometimes you have to ignore Sam when he gets excited early in a chase, but this time I was optimistic with him. With the supercell developing this rapidly, why not produce a tornado early in the life-cycle?
The storm continued to steadily move toward Highway 74. As of this point, I think we were some of the only chasers in position to see the storm's base. It was literally a supercell visible from Highway 9 in Norman right after the start of OU's school year, and we'd beaten the chaser train. That takes skill.
Only a little over half an hour after our initial encounter with the updraft, the supercell reached its most mature, best-structure phase a little after 4:30.
The base was modestly rotating, with some attempts at producing a wall cloud. As much as I love a good rotating base, it was the mesocyclone's vault that stole the show. In contrast to the highly sheared barber's pole I often think about, this one stood nearly vertical directly above the nascent wall cloud. A crisp right edge to the storm's updraft towered upwards, gracefully blending itself into the stritations of the storm's forward flank boundary. It's hard to describe, but all of the storm's motion seemed to converge on the edge of this vault. It was a breath-taking few minutes.
Can a streamwise vorticity current descend a forward flank boundary that is nearly vertically oriented? I don't really know. I would assume that the difficulty in doing so is partially why low-shear storms such as these are less likely to produce classic, supercellular tornadoes. Our storm did give it a pretty good college try, though:
Shortly after this photo was taken, Jason finally arrived. After some brief indecision regarding the path of the supercell over Highway 9, we decided to get north close to the storm's base. After all, if it was going to produce a tornado it would probably have to be pretty soon.
We made it into the inflow notch just in time for the inflow notch to become not inflow-dominant. Although there was significant right-to-left motion from the storm's RFD surge, and some concentrated rotation was evident, the whale's mouth in the foreground belies the fact that the storm was undercut by cold outflow. In all likelihood, if low-level shear was less marginal, we could have had a serious chance of a tornado here.
The surge continued, and for the time being it was clear that the supercell was not a tornado threat. With that in mind, we merged onto Highway 9 (quickest toll payment of my life) and retreated back to the 62 exit.
And that's when we found the chaser train.
Vehicles were crawling everywhere, stopped at every conceivable pull-off, tweeting inane things about rotating wall clouds. At this point, the circulation itself has occluded into a deep rain core over 62. After calling Jason to consult with him, I briefly instructed Elizabeth to pull off on 62. But, as we got engulfed in the core's blinding rain and the number of vehicles continued to pile up, I quickly got frustrated and directed an eastward retreat on Highway 9.
I hadn't entirely given up on the storm's tornadic potential, but as we approached the Riverwind Casino it was clear to me that the odds were dwindling. Despite breathless reports coming from multiple directions, I think by the time the storm hit US-62 it was pretty much outflow-dominant and would remain so for hours (I think it eventually ended up briefly tornado warned far east of Norman, but I was long done by then).
With Jason loosely in tow, we drifted back across the Canadian and got on Highway 9. Headed… literally right back home. By the time we got past the National Weather Center, the idea of calling off the chase and settling in sounded pretty enticing. Plus, I realized I had left my bike on the balcony, and why not get it in before the rain came down?
And just like that, the chase was done by 5:30. No joke.
After I'd covered up my bike, Jason headed back down to his car to continue the chase. Sam hung around to wait out the storm at our apartment. The chase might be done, but the storm certainly was not.
Our storm still had an occluded circulation, and Elizabeth and my apartment had apparently ended up along the forward flank gust front exactly. The circulation gradually gyrated into view – definitely undercut, and with no visible rotation.
The rain steadily increased and drove me off the patio into the living room. Elizabeth and Sam entertained themselves by turning on TV to witness the "local news with a supercell in the OKC metro" extravaganza. It was pretty funny watching the TV chasers report live as they drove through campus, or posted up at a crossroads in Noble just a few miles to the south. Much to David Payne's chagrin, the storm was never able to reingest its outflow and seriously threaten a tornado.
Meanwhile, reports began to surface of large hail falling on the west side of Norman. We gradually slid from the forward flank toward the core. The intensity of the rain increased. And increased. And increased. And then it was coming down in steady, blinding buckets.
Pretty soon, it wasn't only rain that was falling.
Sam, Elizabeth and I crowded around the window as the world's largest bucket of golf balls bounced off of every conceivable surface outdoors. Every Oklahoman knows the sound of golf-ball sized hail striking the roof. *Not* every Oklahoman decides to strap on a bike helmet and brave the elements to fill a bowl with the largest hailstones they can find, though:
Elizabeth (foolishly?) brought back a bowl full of golf balls, and some slightly larger stones. With a quick draw from a measuring tape and the use of a golf ball as a prop, the three of us were able to make my second significant hail report of 2020.
Sam stuck around for some Instant Pot bolognese, and then hightailed it to his own apartment once the storm finally wound down. Not that we were done getting rain. Around 7:00 pm, on the backside of the original supercell, a new supercell initiated and tracked over almost exactly the same area.
Even that wasn't the last one. Yet another supercell followed in its tracks, completely deluging the south side of Norman. By the time the next morning rolled around and it had begun raining again, things had fully crossed into ridiculous territory.
My run that morning was wild – half of the golf course was underwater, and one of the greens was literally a pond. That probably applied to half of Norman, though.
Sometimes in life, the best things are those that we need to seek out. Sometimes, such as the last night of August 2020, the best things come right to us.