In the middle of this past June, Elizabeth and I got away from Norman for a couple of weeks to spend some time at her mother's house near Washington, D.C. I have hoped to be able to blog about that trip for some time now, but I've been pretty daunted at the enormity of the trip (we were on the road for two weeks. I like my blog posts thorough, since they're kind of supposed to be little memory capsules for me). I will hopefully try to round up some of the cooler things we did during our time in DC, but one post that I especially wanted to make was our trip to Shenandoah National Park.
Shenandoah is located in the Blue Ridge Mountains of western Virginia, maybe a little over an hour west of DC. It's actually fairly surprising how quickly you go from the flat Tidewater plains that Elizabeth lives in to the rolling hills and then on in to the big ridgelines that dominate the Appalachians. Being who I am, I of course spent most of the trip to the park entrance nerding out about the local geography and history. The Shenandoah Valley region was critically important during the American Civil War, and as a certified Civil War nut I couldn't contain my excitement.
Shenandoah's shape is quite unique, as well. Partially due to the urbanization of the area, and partially because the mountains in the area aren't peaks so much as they are narrow ridges hundreds of miles in length, the park is designed around Skyline Road, a route that winds through the mountainous terrain for 100 miles. So the park is very long, but it's very skinny.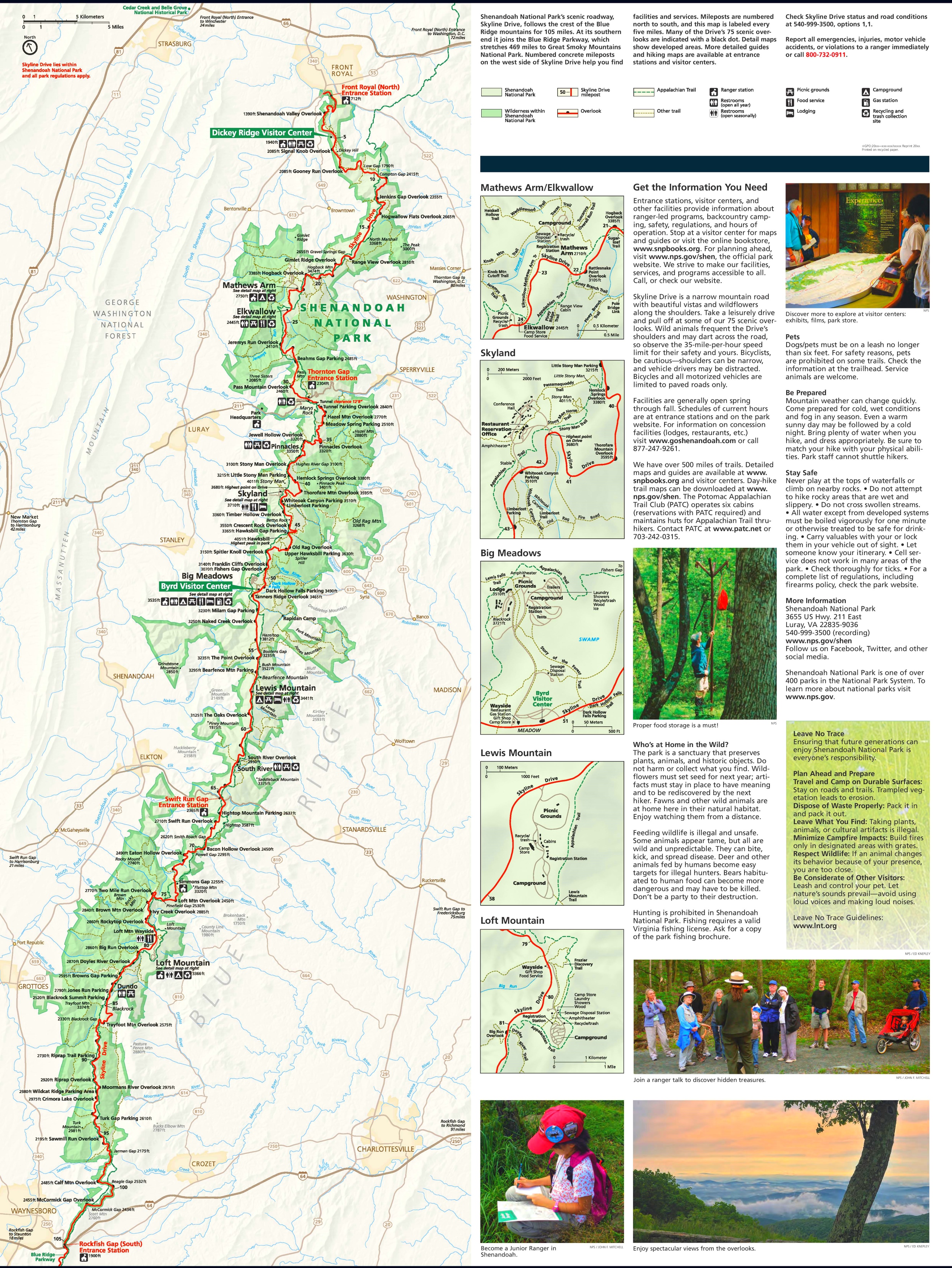 Elizabeth, Pam, and myself (as well as Snowball the dog) came in through the Front Royal entrance (on some sort of fee-free day, score!) and drove up Skyline Drive to the first overlook. Below us spread the entire Shenandoah Valley (with Masanutten Mountain poking up on the left), with the Shenandoah River winding peacefully through it.
The park is really designed to have lots of overlooks, both of the mountains you're in and the nearby valleys. You could spend an entire day just driving on Skyline Drive and stopping at each of the overlooks. I'll try to refrain from writing too many "and then we stopped at this overlook" sentences, but… yeah. Here's us at an overlook:
In a rather un-shocking turn of events, it was pretty rainy that day, with periods of sunshine mixed with showers. We did end up driving through some showers as we ended up going deeper into the park. That led to some Cool Cloud Moments:
A little further down the road, we came upon a traffic jam. I was momentarily confused – who just stops in the middle of Skyline Drive? – until a window rolled down in one of the cars in front of us and someone pointed left. I followed their direction and ohmygod there was a black bear 50 yards away from us.
Jim Halpert's best type of bear was casually crashing through the forest floor, doing whatever it is that bears do. Top 5 wildlife encounter of 2020 for me for sure.
Elizabeth and I scoured Alltrails for a good trail to take a short (dog-friendly) hike. We settled on a trail just beyond the entrance station called the Mill Prong trail. The trailhead parking lot was small – just a few cars parked there, including some girls who were planning a multiple-day backpacking trip who did not look prepared for the task.
As the map shows, the Mill Prong Trail is east of Skyline Drive, but the parking lot is actually to the west. This means, for a few dozen meters at least, we were on the fabled Appalachian Trail! One day I'd like to hike the whole trail, so that was pretty cool.
The Mill Prong Trail generally angled downhill toward a creek. Everywhere around, it was green – leaves, ferns, the underbrush – all of it, green. And all of it, soaking wet from the rain showers. Snowball began with wet paws. Then they were soaked. Then they were muddy. Then his entire body was soaked. And yet, with every new puddle on the trail, he gamely splashed onward.
Downward we ambled, within audible range of one of the creek branches babbling nearby. After ducking under mushroom-covered logs, we discovered that the water crossings weren't bridges, but instead were just some stones placed in the water. And the stones weren't exactly sticking out after the rain. Not wanting to lose Snowball permanently swept downstream, Pam picked him up, and we carefully navigated the stones to get to the other side.
What was my ultimate goal on the hike? Find a waterfall. It's Shenandoah, finding a waterfall shouldn't be that hard. And, right before the next creek crossing (which Snowball probably couldn't have handled anyway), we found one! Big waterfalls, small waterfalls – I'm a fan of all waterfalls. This one made for a very pretty destination point on the hike.
Snowball had seen better days.
The hike back uphill wasn't too strenuous, all things considered. It was a good time to be reflective – a quiet trail in a remote corner of a national park, late in the afternoon of a sunny day. Sometimes, I try to create a mental snapshot of some place for my memories. That was my mental snapshot from Shenandoah.
We did have to drive to the nearest park entrance to finish off our time in the park, though. Shenandoah is really quite pretty:
And with that, we were out of the park and driving back through the Virginia foothills to Alexandria. We'd only spent a few hours in Shenandoah, but I think the park is designed as an afternooner – spend a few hours there when you can. I'd like to go back and hike Old Rag in the future, but I was glad to visit it while I could!