A football season can last a long time. 12 regular-season games, a conference title, a bowl game, and just one or two bye weeks… unless you're willing to trade every Saturday of your fall, you're going to miss a few games. I certainly did, for various reasons. Today's countdown of my favorite OU games as an undergrad lists all the victories that I enjoyed the least, generally because I wasn't even watching.
48: Oklahoma 56, Kansas 3 – 2016
A Kansas curb-stomping! I never saw as much as a snap of this freshman-year game. I was in Michigan at the wedding of one of my cousins. If there is at least some of a bright side to this, it's that Elizabeth (my girlfriend of 3 days or so) got my ticket since she didn't have season tickets. Dede Westbrook had a punt return touchdown, which was cool when I watched the highlights later.
47. Oklahoma 55, Kansas 40 – 2018
Another Kansas game! This one was on November 17 of 2018, a day also referred to as my 21st birthday. And no, I didn't make it into the stadium. In fact, I was busy belligerently yelling at the Michigan/Indiana game, where Indiana was playing some of the dirtiest football I'd seen. On top of that, it was a cold and windy night in Norman and I'd been drinking. The options turned into going to Buffalo Wild Wings to drink a giant Miller Lite and yell some more at Michigan, or watch Oklahoma's pathetic defense try to stop Pooka Williams from Kansas. I chose door A. Look at the final score and you can't tell me I made the wrong decision!
46. Oklahoma 52, TCU 27 – 2018
Similar to the rage-inducing Kansas State game a year later, this one was held on the weekend of the National Weather Festival. With Elizabeth acting as a Weather Friend and myself acting as OWL President, I didn't have much mental capacity for the OU game. On top of that, my parents were visiting for the NWF. I caught bits and pieces throughout the afternoon, but clearly the game wasn't the most important thing to me.
45. Oklahoma 34, Oklahoma State 16 – 2019
This one was actually a pretty important game! Bedlam on Thanksgiving weekend with OU trying to maintain their playoff hopes. But because it was Thanksgiving weekend, I was not in Oklahoma to watch it. In fact, I was in DC for Elizabeth's debutante ball (a story for another day). Thanks to certain events that had transpired the evening before (I drank more than I ever had in my life), I was so hungover on Saturday that I couldn't eat until evening. On top of that, all of Elizabeth's cousins were asking me how I was feeling, which was just awesome. We were at a post-ball reception on Tuesday evening, notable for the fact that they had bomb-ass crepes and charcuteries just in time for me to get my appetite back. I'll admit that I spent a good chunk of the reception checking the OU score on my phone. And I looked dapper as hell.
44. Oklahoma 49, Baylor 41 – 2017
Baylor went 1-11 in 2017, but it was perfectly in character for post-Ohio State-game OU to struggle with them. I was spared the massive coronary stress by the presence of one of my favorite things in Oklahoma – the State Fair. This was the first year Elizabeth and I went together, and it was just plain fun. Everything we saw was for the first time – the big stables with row after row of goats, the alpacas, the giant air-conditioned bazaar where you could find everything from a new SUV to wine tastings. My mood was already improved by TCU beating Oklahoma State early in the day, and the two of us had tickets to the rodeo with a concert by Josh Turner in the evening. While this rodeo was going on, I was occasionally getting updates as OU took the lead over Baylor, then blew the lead, spent the 3rd quarter trailing, and finally seemed to take control of the game in the 4th. As Josh Turner took the stage, Baylor scored late, and then recovered an onside kick. I didn't realize how stressed I was until OU finally snuffed out the Baylor rally and Elizabeth looked at me with relief. With that out of the way, we enjoyed the rest of the concert and the rest of our night together.
43. Oklahoma 45, Kansas 20 – 2019
I will not apologize for not holding high regard for random Kansas games. This one was played in Lawrence at 11:00 a.m. CDT (although, if I recall, the start of the game was delayed due to storms). It was at the same time as a big Michigan-Iowa contest on Fox. I was working that morning at the Mesonet, and had the Michigan game pulled up on the TV in Operations. When my shift ended at noon, Elizabeth and I headed to Buffalo Wild Wings to catch both games at once. While the Wolverines were winning a tight, defensive battle in Ann Arbor, OU sleep-walked their way to a multiple-score lead over the Jayhawks, eventually winning by an entirely forgettable 45-20 margin. The game did produce this meme during the rain delay: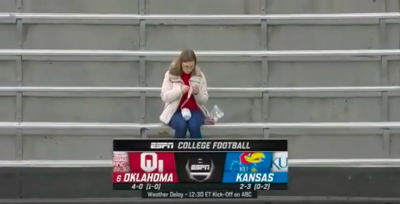 42. Oklahoma 59, West Virginia 31 – 2017
Another Thanksgiving weekend game! In this particular instance, I was in Ann Arbor for The Game. Ohio State won which obviously sets a cap on how much I could fully enjoy the weekend. But, I did enjoy tailgating with Taylor and Kyle beforehand (and after! Their friends had the fanciest-ass tailgate I'd ever seen). Eventually, we stopped in at a poutine restaurant for dinner, where I was able to catch a little bit of Baker Mayfield's senior night (after he was suspended for the first series, of course). OU flattened West Virginia in a game best-known for the Mountaineers trying to bait Mayfield into doing something dumb. I remember ESPN Radio being absolutely livid about it as Taylor drove me to the airport.
41. Oklahoma 37, Iowa State 27 – 2018
I actually did watch this whole game. We watched the 11:00 kick from my apartment. Iowa State was pretty good that year, and I knew it wouldn't be a cakewalk. But, fueled by the "revenge game" mentality, OU pulled off a two-score win largely fueled by Hollywood Brown. The reason this one doesn't rank high is that I wasn't all that focused on the game that day. Elizabeth and I took off right afterward to go to Tulsa for a Chris Young concert (where I was famously thrown up on in the bathroom). It doesn't seem right to rank a game that felt like an afterthought at the time too highly.
40. Oklahoma 42, Kansas State 35 – 2017
The last of the National Weather Festival games! OU won this won in a thriller. After trailing (sometimes big) in the first half in Manhattan, they clawed back and took a late lead on a Rodney Anderson touchdown catch and dive. After the Wildcats tied it up, OU's two-minute drill got them to the fringe of field goal range, and Anderson accidentally took a stretch play designed to set up the game-winning kick and scored on it.
Where was I? Storm chasing.